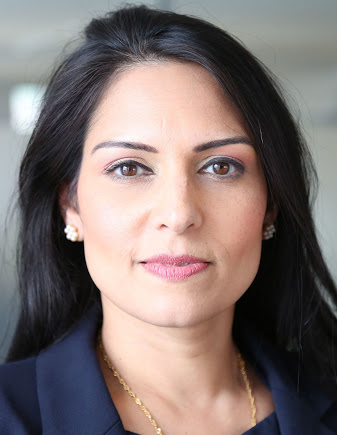 By Ayobami Akanji & Aliyu Abdullahi
The banks lobbied Washington so they could write the rules that got us into this crisis. They then lobbied Washington to get the money to bail them out. And then they are lobbying Washington to write the rules so they can get us into the next crisis. It's perfect circularity – Elizabeth Warren
Elections world over generate different degrees of attention. Local or international, interested parties most times pitch with the side their emotions or interests appeal to. Then, different ideological postulations fly around in the political space.
Nigeria, despite all she has been through, is still the gateway to Africa. This is why everything that affects Nigeria, ends up affecting Africa. Our elections always draw the attention of international observers. It is therefore unsurprising to read from Ms Priti Patel, UK's former Secretary of State for International Development that Nigeria is a place investors should avoid as the country is in violation of international laws.
She had her opinion carved on the stones of alleged refusal of the administration of President Buhari to honour an agreement involving a British Virgin Island (BVI) firm, Process & Industrial Development Limited (P&ID) and the Federal Government. The messenger was an Op-Ed in City AM, a free circulated London paper owned by Russians.
BVI's are known to be tax havens in facilitating illicit flows of dirty money globally, a scourge the current Nigerian administration is fighting and advocating against on the international fora. It is estimated that $80 billion flows out of Africa annually and 40% of these funds are from Nigeria. BVI's commitment to zero tax and levels of secrecy encourages financial crimes and allows corporations and individuals to evade tax. It is estimated that $1.5 trillion worth of assets move through the BVI.
BACKGROUND
In January 2010, P&ID and Nigeria's Ministry of Petroleum Resources entered into a 20-year Gas Supply and Processing Agreement (GSPA). Under this agreement Nigeria was to supply Wet Gas to P&ID, who would process it in a newly-built facility and return it in the form of Lean Gas. P&ID would then sell the by-products of the refining process for its own profit. Nigeria could not meet her contractual obligations in supplying Wet Gas as a result of militancy in the region.
However, P&ID treated this failure as a repudiation of the GSPA and claimed to have spent $40 million on the project, although it had not yet acquired the land or built the facilities. This raises the poser; what claim is P&ID laying compensation to? However, the tribunal awarded damages to P&ID in the sum of $6.6 billion and the then government was able to settle out of court with an agreement to pay $850 million.
Furthermore, government is a continuum, it is poignant to note that the agreement Ms Patel was harping on was entered by the last administration, and in a suspicious manner the settlement was pushed to the incoming Buhari administration, whereas the agreement was reached on August 11, 2014 by the former Attorney General.
In a swift reaction to the op-ed, Presidential media aide, Shehu Garba said that the FG has submitted to the jurisdiction of a court in the US to determine issues in the dispute. This is a clear indication that the government, despite its being constrained by funds and other obligations, still wants to respect the rule of law, but would tread the path of due process.
Conversely, Nigeria's Solicitor General has explained the status of this case which resulted in a default decision for the enforcement of the payment of $6.57bn against Nigeria. He noted that what the P&ID got in the US was actually a "default entry" and not a judgement, that the US court lacks constitutional power to issue such an order against a sovereign state like Nigeria.
Alas, Ms Patel's assertion that corruption hasn't been mitigated in Nigeria is really laughable, and clearly shows that she is on a hack job. It is very easy to talk about how ugly a picture is when you intentionally look at it from the side of sun-rays. Nigerians at home and abroad who analyse happenings objectively will be best placed to assess this. Gone are the days when the vaults of the Central Bank were reduced to something within the wire-pull of a hedonist who, as soon as the itch to flash cash comes, however unreasonable, irresponsible or directionless the itch is, would with immediate alacrity, summon siren blaring bullion vans to come for extracts. Gone are the days when funds meant for the upgrade of military hardware were turned to a bazaar, reducing the army's efforts in combating Boko Haram insurgency a Sisyphean. Gone are the days when government offices were a clearing house for deals that were planned for millions but shared by a few.
President Buhari has signed several Executive Orders to demonstrate his resolve to holistically eradicate corruption in Nigeria. Nigeria joined the Open Government Partnership (OGP), a global body committed to accountability and transparency in the management of public affairs.
It is noteworthy that corruption and being unethical isn't something that can be completely eradicated. Ms Patel is a living proof of this as she was forced to resign her office because she held 12 secret meetings with Israel senior government officials and US diplomats without informing the Foreign Office, thereby going against the convention of the Foreign Office to disclose business overseas. She even went as far as saying that former Foreign Secretary, Boris Johnson was aware of her trip but later changed the bearings of her assertions.
We recall her visit to Nigeria on September 1 2017, alongside Britain's former Foreign Secretary, Boris Johnson. They met with the Vice President Yemi Osinbajo promising to assist Nigeria in the wars against insurgency and corruption. Johnson described Nigeria as an incredible country and power house of the African economy while Ms Patel noted "We stand shoulder with the government and the strength of the UK relationship with Nigeria on all aspects, including the diversification and development going on in the country"
Self-same Ms Patel is still a member of parliament of Witham in Essex since 2010. Nobody has asked her to leave this post; or, to follow her line of thoughts, no one has asked the world not to deal with her. It defies logic and redefines illogic that she will run to town with an assertion that investors should consider how risky an environment Nigeria is before investing. Same country that had Investments to the tune of $1.3bn in 2017 from the US alone.
Few months ago, Prime Minister Theresa May came visiting to Nigeria looking at how both countries can expand their trade balances. Nigeria is the second largest trading partner of Britain in Africa, with a trade balance of 4.5 billion pounds annually. MOUs were signed on economic development forum to allow both countries broaden and deepen bilateral trade.
Nonetheless, in demonstration of this administration's commitment to improve the lot of investors to secure their investments, and being the largest economy in Africa and among the top ten performing economies in the world, the Presidential Enabling Business Environment Council (PEBEC) was set up in July 2016. It has amongst other things improved Nigeria's standing in the global Ease of Doing business index; Nigeria moved from 37 points to 56 – 24 places move upward.
It is expected that people like Ms Patel, who are believed to be at privileged positions where relevant information is as close as the click of a finger, to be objective. It is sad that facts are now twisted to the point where they bear semblance with anything far away from common sense. Nigeria is an investor's delight and unlike Ms Patel, the Federal Government of Nigeria is calling on all interested investors to troop into the country for business. Their businesses will be protected provided they follow laid down rules; the present government has given that assurance. What Ms Patel and her ilk have, and will say, can only be hearsay and rumour.
Akanji, a political strategist and Abdullahi, a lawyer write from Abuja