FG will Re-Equip 10,000 Schools Every Year for Next Ten Years.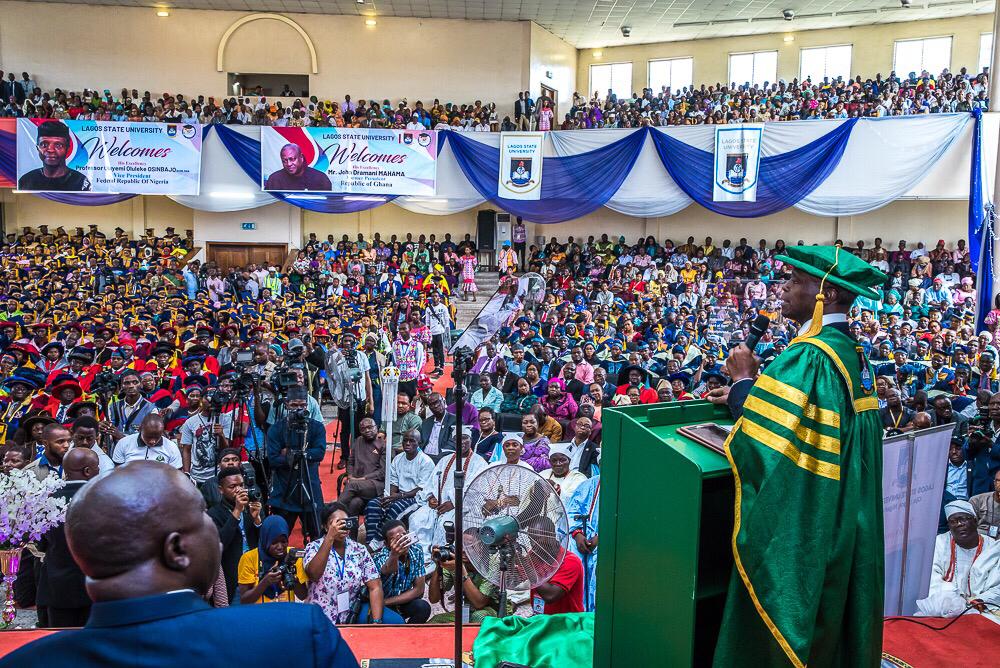 "We are in a race against other economies and against time. Technology has changed the employment landscape permanently. For the first time in human history, men and women will be trained in their own countries, they may even work even from their bedrooms and compete for jobs anywhere on the planet." – VP Osinbajo
CONVOCATION LECTURE DELIVERED BY HIS EXCELLENCY, PROF. YEMI OSINBAJO, SAN, GCON, VICE PRESIDENT OF THE FEDERAL REPUBLIC OF NIGERIA, AT THE 23RD CONVOCATION OF THE LAGOS STATE UNIVERSITY, ON THE 16TH OF MAY 2019.
PROTOCOLS
I am deeply honoured to have been invited to join you on this auspicious occasion of the 23rd Convocation of the Lagos State University.
This is a home coming for me. I am especially blessed to have received my first professorial chair here at the Lagos State University. My other chair was received at your brother University, my Alma Mata, the University of Lagos.
The great visionaries led by Alhaji Lateef Jakande, who founded this great place of learning and inquiry, deserve our commendation and praise.
It is on account of their farsightedness and resilience in the early difficult days of the establishment of the University that we have today, a University that has proved that it can produce the best people and the most innovative ideas.
We also owe a priceless debt of gratitude to the distinguished scholars and faculty of this great University. Men and women of enormous talent who, despite all the challenges of funding and infrastructure, produce excellent research work daily and year after year, they turn out men and women who are equipped with the best resource a man or woman can have, relevant knowledge, knowledge in the 21st Century.
We must congratulate the University on being selected amongst so many Universities in West and Central Africa, for the location of a Centre of Excellence, as part of the World Bank's African Centers of Excellence programme (ACE).
This is a recognition of the immense talent and hardwork demonstrated by the faculty and students of our great University.
Today, I have been asked to speak on the subject – AFRICA CENTRES OF EXCELLENCE IN AFRICAN UNIVERSITIES: A VERITABLE CATALYST FOR NATION BUILDING AND DEVELOPMENT
According to the US-based National Research Foundation (NRF), Centres of Excellence are physical or virtual centres of research that concentrate existing research excellence, capacity and resources to enable researchers to collaborate across disciplines and institutions on long-term projects that are locally relevant and internationally competitive in order to enhance the pursuit of research excellence and capacity development. The five key performance areas of Centres of Excellence are Research/knowledge production; Education and training; Information brokerage; Networking; and Service rendering.
In academia, a Center of Excellence often refers to a team with a clear focus on a particular area of research, such a center may bring together faculty members from different disciplines and provide shared facilities.
A Centre of Excellence must by definition, be at the apex of the University or educational system and must also be selective in its area of specialization.
It must of course also, be able to concentrate the best staff in its designated field and attract the financial resources that confer it with operational autonomy and for the conduct of stellar research.
The concept is not new in Africa. The Centre of Excellence for Integrated Mineral and Energy Resource Analysis (CIMERA), was launched on the 24th of April 2014 at the University of Johannesburg; a Centre of Excellence in Food Security was launched on the 15th of April 2014, co-hosted by the University of the Western Cape and University of Pretoria; and a Centre of Excellence in Mathematical and Statistical Sciences was launched at the University of the Witwatersrand also in South Africa on the 1st of April 2014, focusing on the main theme of Mathematics of the Earth and Environment.
The Africa Centre of Excellence project sponsored by the World Bank is a notable initiative in this regard with emphasis being placed on Science, Technology, Engineering and Mathematics (STEM). The initiative also prioritizes agriculture and health, which are important sectors for African development.
I am told that 19 Centres of Excellence have been established in Nigeria to date under the ACE initiative, including (to name a few) those at the University of Benin, Ahmadu Bello University Zaria, University of Nigeria Nsukka, Bayero University Kano, the University of Port-Harcourt, the University of Lagos, Redeemer's University, and of course, Lagos State University.
The establishment of the Centre here will result in enhanced research capacity, quality and impact for the institution, as well as increased opportunity for research collaborations.
The clearly expressed objective of the ACE project is to "train experts in various research fields to find solutions to regional developmental challenges." This is a succinct statement of the pivotal relevance of a Centre of Excellence.
Beyond the ACE project, this must also be the objective of African governments, civil society and private sector. We must fund and find solutions by research and innovation to our various developmental challenges.
We as a government, the Federal Government of Nigeria in collaboration with State Governments, have taken up that challenge.
Recently, the Nigeria Climate Innovation Center, a collaboration between the Federal Government and the Lagos Business School, recently concluded its Climate Launch Pad and some very innovative ideas were unveiled.
One of the innovator companies, New Digits, generates power from water, the product uses water and conformed solar cells to generate energy for electricity and cooking. It works by collecting water automatically from any piping channel in the house, breaks down the water into hydrogen, which is then used to cook and to power the entire house without the need for batteries.
Powerstove Energy, founded by three young Nigerians, Okey Esse, Abdulazeez Tunde and Glory Esse, produces a low-cost, clean smokeless cook stove. Powerstove Energy is the first clean cookstove to be fitted with self-powered IoT cloud system, to monitor in real time, a single day of cooking, the amount of Co2 and biomass saved, black carbon prevented and total electricity generated.
Even more remarkable innovation is in healthcare; the work being done by the Federal Government's sponsored Innovation Hub in Yola, Adamawa State, which is called the Northeast Humanitarian Innovation Hub. The hub was established to find solutions to the humanitarian problems caused by the insurgency in the Northeast. About a month ago, a group of interns at the hub designed, printed and assembled a 3-D printed prosthesis limb for an Assistant Superintendent of Police, Mr Tumba James, who lost his arm while on active duty.
The interns, Bashir Yau, Sulaiman Habib Adam and Kabiru Adamu and their colleagues, were trained in Yola and worked with a number of volunteers with amputated limbs. The equipment and materials required and used for all of the processes were found and taken in Yola and all the work was done in Yola.
So today at that hub, it is possible to print a prosthesis, artificial limb using a 3-D printer designed in Nigeria.
We have also partnered with the Civic Hub in Abuja, an innovative technology hub, constantly churning out revolutionary ideas for public sector service delivery. They have also pioneered the Students' Innovation Challenge and are building a technology innovation hub at the University of Lagos, which is groundbreaking, both in its concept, as well as design.
Every where in our country today, young men and women are achieving the vision of Centers of Excellence as they tackle problems of poverty, education, financial inclusion, healthcare in far flung rural areas, using technology to reach more people with knowledge and services.
Let me give you a few examples. When we wanted to employ 500,000 graduates in our N-Power Programme, the challenge was how to process at least 3million expected applications and pick the best in every Local Government in Nigeria.
We didn't seek any foreign help or expertise. We hired a local company called Softcom. Softcom is a company founded by Yomi Adedeji, a 2007 graduate of Covenant University; the company's Chief Solutions Officer is Sehindemi Olobayo, who graduated from the University of Ilorin.
They designed a portal and tools robust enough to deal with over 4million applications online. After we employed over 500,000 of the applicants, the same company designed the payment platform to ensure that all beneficiaries are paid promptly every month.
A greater challenge was when we started our TraderMoni, MarketMoni, FarmerMoni microcredit loans to reach more than 2million petty traders across the country. Again we didn't look beyond young Nigerian innovators. The first challenge was how to enumerate at least 2.5million petty traders.
We got two Nigerian technology companies; Mobileforms and GDM. Two young Nigerian graduates, Damilola Ayorinde and Oluwatomi Ayorinde, founded Mobileforms barely three years ago. While Oluwatomi studied Management Information System at Covenant University here in NIgeria, Damilola studied Biomedical Science in the UK
The company has created a platform that enables business and governments to crowd source data from across the African Continent.
GDM, also a Nigerian-owned Marketing Services and Research Company, formed by two young people, not only enumerated our 2.5million potential clients, they took bio-data, including photographs of these number of people, many of them who became beneficiaries of the scheme.
The point's person and a key implementer of the project from the Bank of Industry, who managed the project was Uzomah Nwagba, another young Nigerian, barely 30 years old.
To pay out the loans, collect repayments and give further loans to those who repay, we engaged Eyowo, a FinTech platform created again by Nigerians under 35 years old.
This platform, not only identifies enumerated traders but also ensures that there are no double payments and delivers the money to the mobile phones of the traders. These young Nigerian entrepreneurs delivered the largest Social Investment Programme of its kind in Africa faultlessly.
So what do we need to do to convert our country to the greatest centre for innovation and creativity in the world? What is the role of the Centres of Excellence in doing this?
Three things are important; number one, education, number two, education, number three, education.
The truth is that education is the most powerful force for socio-economic change in the world. The UNESCO Global Education Monitoring project says that learning with relevant education, are the most important forces for change in so many different respects.
The Learning Generation Report provides important evidence on the impact of education on the individual's earnings and economic growth.
They found amongst other things that:
Education reduces poverty. 171million people could be lifted out of extreme poverty if all children left school with basic reading skills. That's equivalent to a 12% drop in the world total. Absolute poverty could be reduced by 30% from learning improvements outlined by the Education Commission.
They say that education increases individual earnings. Education increases earnings by roughly 10% per each additional year of schooling. For each $1 invested in an additional year of schooling, earnings increase by $5 in low-income countries and $2.5 in lower-middle income countries.
Education reduces economic inequalities. If workers from poor and rich backgrounds received the same education, the disparity between the two in working poverty could decrease by 39%.
Education promotes economic growth. Educational attainment explains about half of the difference in growth rates between East Asia and Sub-Saharan Africa between 1965 and 2010. In 2050, GDP per capita in low-income countries would be almost 70% lower than it would if all children were learning. Increasing tertiary attainment by one year on average would increase sub-Saharan Africa's long-term GDP by 16%.
An important issue is that of the education of girls in particular. Some studies today already show that girls are on average, smarter than boys. Any nation that does not educate its girls does itself great harm. How do you solve your problems when you lock up your best minds?
The Federal Government has a three-fold plan to improve educational outcomes but more importantly, to train this generation of students to create and function in a knowledge driven economy.
To start with, we will be more focused on achieving the educational outcomes specified in the Sustainable Development Goals, such that we can meet the targets for school enrollment, quality of education, adult literacy and the quality of teaching by 2030.
Secondly, we have with the collaboration of State Governments, undertaken an ambitious programme to get the millions of out-of-school children back into school.
It is a complex process, requiring the full cooperation of State Governments, religious authorities, as well as the resources to build more schools, equip them properly and train the required number of teachers.
Our National Homegrown School Feeding Programme is already leading to improved enrolment and the N-Power programme can be the source of the initial requirement for teachers.
But more importantly, we are redesigning our educational curriculum as part of our educational roadmap, which we have titled, "Every Child Counts".
It is quite clear that we have to change both the substance of education that our children receive, as well as the methods by which they are educated.
We are clear that the key to achieving all of these goals is to focus on what we have described as STEAM Education, Science, Technology, Engineering, Arts and Math, and the need for a workforce with STEAM skills to drive economic prosperity.
It is particularly gratifying to note that the Lagos State University Centre of Excellence Programme has been ear-marked as a Centre of Excellence and regional hub for Innovative and Transformative STEM Education in Africa.
This fits well with the Federal Government's policy direction in education and our vision for a prosperous Nigerian economy, able to create the jobs and train the young men and women, to take on those jobs in the next few years.
The notable addition that our policy has made to STEM is to add Arts, so ours becomes STEAM. We believe that training in humanities is fundamental to sound reasoning and judgment and we must also take on the challenge of training men and women for opportunities in the Arts and in Entertainment.
But what is STEAM all about? Let me explain. It is clear to all that from now into the next several decades, technology and computing will rule the world.
Every aspect of our lives; healthcare, commerce, business, education, entertainment, will be driven by or based on some technology platform or the other. Technology itself is driven by the interplay and convergence of Science, Technology, Engineering and Maths.
Recognizing this, the STEAM curricula have been developed in several countries to enable the teaching of these subjects, not individually and separately as before, but together as a system of thoughts and ideas.
The teaching also emphasizes how to use the combination of these subjects to design and to solve real life problems. Most surveys on the job opportunities of the future agree that STEAM related jobs, especially jobs in computing, will dominate the job market.
The good news for us here is that even in Europe and America, there are huge gaps in finding competent personnel to take on most of the tech-related jobs already being created. The good news also is that most computing jobs may not even require major degrees.
Our new policy, therefore, is to introduce Science, Technology, Engineering, Art and Mathematics curriculum in primary and secondary schools. We also recognize that schooling should support the development of skills in cross-disciplinary, critical and creative thinking, problem-solving and digital technologies. These skills are essential in all 21st-century occupations.
The national curriculum being developed, will not only include the teaching of coding, digital arts, design thinking, robotics, critical thinking and other skills but also using these skills in interpreting traditional curriculum topics.
The Federal Government's aim is to ensure that from early education, primary school onwards, regardless of social background or geographical location, every young person should have a fundamental level of digital and STEAM literacy that enables them to succeed locally or internationally.
The curriculum is one of the crucial components of the programme's success. It recognizes the importance of having a well-rounded curriculum that is global in orientation and local in its application.
Quality teaching is the key to lifting Nigerian students skills quotient to attaining the National objective. Teachers need to be equipped with the skills and confidence to support digital literacy, functional skills training and STEAM learning.
Our efforts under the National strategy will focus on implementing National re-training at primary and secondary levels, implementing National initial teacher education standards, sharing best practices and efforts to attract more STEAM graduates to the teaching profession.
Conducive learning environments are crucial to motivate students and enhance learning. Classrooms and other learning centers must be remodeled.
We will therefore under the new scheme, be remodelling and re-equipping 10,000 schools every year for the next ten years. There is no doubt that we would be leaning heavily for direction, support and ideas on the Lagos State University's Centre of Excellence program.
Since by providence, STEAM education research will be your focus, this collaboration will be an important one. We expect that STEAM will fundamentally determine the future of the Nigerian socio-economic landscape.
We are in a race against other economies and against time. Technology has changed the employment landscape permanently. For the first time in human history, men and women will be trained in their own countries, they may even work from their bedrooms and compete for jobs anywhere on the planet.
Computing is the ultimate agnostic tool. You may never even have to see your employer, your employee or service provider.
Our success or failure will determine our economic future. This is the existential nature of the task before the LASU Centre of Excellence and the Nigerian Government. God helping us, we will not fail.
Please permit me a word for the graduating students today. It was Prof Woodrow Wilson who said, "A man or woman who leaves a University, must be a man or woman of his nation and a man or woman of his or her time." In other words, you must be concerned about building your nation and you must recognize that every generation is uniquely equipped to deal with its own challenges.
Be suspicious of those who speak of the good old days, they are probably suffering from memory loss. Your own days are the best days yet.
Fareed Zakaria, the CNN journalist, told a Harvard graduating class in 2012, that the smartphone you have in your hands, has more computing power than the Apollo space capsule that went to the moon. That is to demonstrate to you that you have more in your pockets today, more in your hands today, much more technology than was available when the Apollo spacecraft landed on the moon.
You are not by any means disadvantaged. You are graduating at the most advanced moment in human history. The challenge for you and for which I am confident you are prepared is to make your own contributions, to make your own times better now and in the future.
I congratulate family and friends of the graduands on this day of joy. For the graduands today, I cannot resist saying my favourite prayer for you; as your days, so shall your strength, your wisdom and favour with God in Jesus mighty name.
This means you will have enough strength in your bodies, your minds and finances, to meet your daily challenges. There are a thousand and one excuses for failure, ignore them all, and you will succeed! Congratulations!
I thank you all for listening