Group Insists Fani-Kayode is Threat to National Unity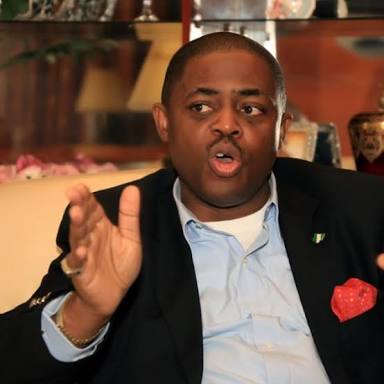 A political group in Nigeria has reiterated its call that former aviation minister Femi Fani-Kayode be arrested for divisive messages peddled on social media.
The President of the Initiative to Save Democracy, ISD, James Sunday Akinloye, noted that hate must be erased from Nigeria's politics especially hate messages and fake news.
He explained that if Nigeria's democracy must grow, then certain persons must be used as example to other that there are laws regulating social media in Nigeria and that people cannot just concoct fake stories.
He noted that it has been four days since ISD petitioned the Nigerian Police and DSS to arrest Fani-Kayode but that there is still no action.
"We read with interest the response by South-South Political Vanguard describing our petition to the Nigeria Police Force and the Department of State Services as a ploy to gain cheap political ploy but this is not true.
"We are dedicated to ensuring that Nigeria's democracy is preserved and that certain persons who have evil agenda are brought to book by the law. There should be a reaction to every action, Akinloye argued.
He pointed to some messages on Twitter written and published by Fani-Kayode. "For example, days before President Muhammadu Buhari visited the United States, he urged President Donald Trump to subject President Buhari to a DNA test because he is Jubril from Sudan. How can anyone say that? he quizzed.
He then pointed to yet another tweet by the former campaign spokesperson for Goodluck Jonathan in 2015. In Fani-Kayode's own words, "The man that is there today is Jubril from Sudan and not Buhari. Buhari is dead and he never came back from London. Only his body did. They invoked the spirit of Jubril and placed it in Buhari's body. It is a common ritual amongst Satanists. Many lives were sacrificed in the process," he tweeted on 5 April 2018.
Akinloye argued that the group has made photocopies of the hate messages and fake news which were peddled by Fani-Kayode and have attached it to a petition that will be taken to the police and DSS this week.
"It is important that we do not allow ourselves to be carried away by a response from a group that does not understand the gravity of fake news and hates speeches.
"First we think the Nigerian Police should arrest him immediately and then charge him to court. We have evidences of his cybercrime and the hate it has sown amongst young Nigerians in their formative years.
"We have hundreds of responses to some of his post which shows how it was shaping the ideology and philosophy of some Nigerians towards hate and divisiveness and we will not stand and watch kids who are just joining social media to be swayed by this kind of messages.
Akinloye noted that if the DSS and police refuse to arrest Fani-Kayode then his group along with others will stage a peaceful protest both in Lagos and Abuja, Nigeria's capital.
"If we must embark on a peaceful protest, so be it. Enough of hate speeches and fake news. Mr Fani-Kayode must understand that there are cybercrime laws and if you err, then you should be punished.