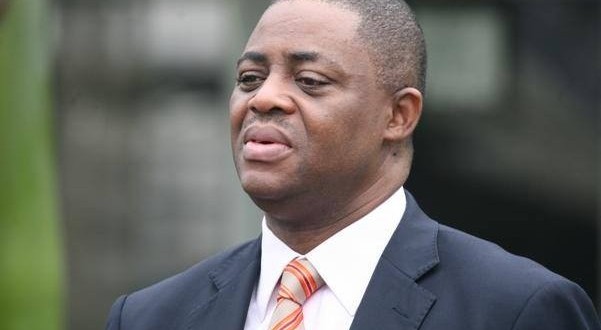 Group petitions DSS, Police to arrest Fani-Kayode over Fake News
A political group in Nigeria has petitioned security agencies over the continuous spread of Fake News by former aviation minister Femi Fani-Kayode, warning that, it is a security risk to the country leading up to the 2019 election.
The Initiative to Save Democracy warned that if Fani-Kayode and his kind are allowed to peddle false news it could lead unsuspecting Nigerians to believe that this news is true.
President of the group, James Akinloye who said he will drag Fani-Kayode to court, explained that people must be forced to face the consequences of their actions.
"There are laws in this country and if anyone thinks they are bigger than the law, then we have a problem. The law enforcement agencies should do their job and arrest the likes Fani-Kayode, Deji Adeyanju and others for their hate messages and fake news."
Quoting the 2015 Nigerian Cybercrime Act, Akinloye noted that Fani-Kayode had breached certain provisions and should be arrested and charged. "The Act forbids the distribution of racist and xenophobic material to the public through a computer system or network (e.g. Facebook and Twitter), it also prohibits the use of threats of violence and insulting statements to persons based on race, religion, colour, descent or national or ethnic origin. Persons found guilty of this are liable on conviction to imprisonment for a term of not less than 5 years or to a fine of not less thanN10million or to both fine and imprisonment."
Akinloye explained that the Act also outlaws cyber-stalking and cyber-bullying. Anyone convicted of these could receive a N2 million minimum fine and/or at least 1 year in prison. More severe offences could attract a penalty as high as a N25 million minimum fine and/or up to 10 years' imprisonment, depending on the severity of the offence.
He explained that the group will petition Facebook, Twitter, Instagram and other social media platforms as deterrent to others who are emulating Fani-Kayode on their platform, stressing that, it is a national security risk. "They need to know how divisive his messages are, and they need to understand why his accounts should be deleted immediately.
"We have a fragile but steady democracy and we should protect it with all our hearts and this includes halting fake news and hate speeches. We have seen what these kinds of things can cause, and we do not wish it on our country."
Akinloye urged politicians to approach the election with maturity and caution, noting that, Nigeria belongs to everyone. "Who wants to rule over a country that is in turmoil," he asked, "We should strive to ensure peace at all times."