Meet Prof. Yemi Osinbajo, a Man Driven by Passion, Honesty, Integrity and Commitment to the Masses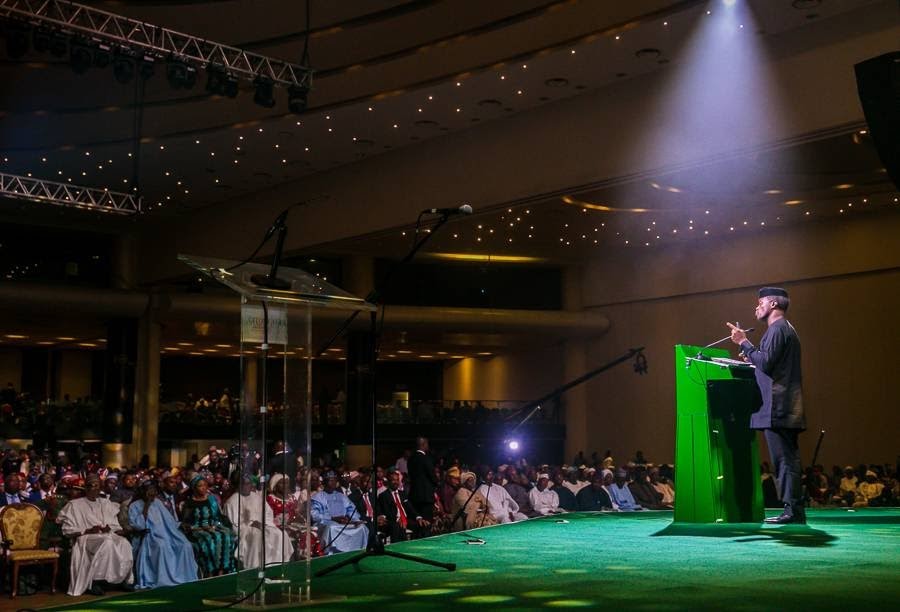 Ever since 1992 gave us a good idea of what true leadership and politicking was, I have never met a leader more committed to the entity Nigeria than Professor Yemi Osinbajo (PYO), a man with so much commitment, dedication, Confidence, Passion and such a good Communicator he almost rivals Chief Moshood Kashimawo Olawale Abiola (MKO) and Lt. Col. Odumegwu-Ojukwu.
Professor Yemi Osinabjo is a Senior Advocate of Nigeria, a Professor of Law and the current Vice President of Nigeria since 29 May 2015.
As vice president, his roles and constitutional powers include; participation in all cabinet meetings and, by statute, vice chairmanship of the National Security Council, the National Defence Council, Federal Executive Council, and the Chairman of National Economic Council.
Although the vice president may take an active role in establishing policies in the Executive Branch by serving on such committees and councils, the relative power of the Nigerian vice president's office depends much upon the duties delegated by the president.
With the above limited executive functions accorded a vice president of Nigeria, Osinbajo has established policies that are more masses oriented and beneficial to the general public.
Unlike past vice presidents, Prof. Osinbajo has won the trust of the President and the masses alike with his integrity and passion for a better nation.
Osinbajo's poverty and hunger fighting policy (NSIPs) have earned him accolades from far and near including President Muhammadu Buhari, who on the 8th march, 2019, described Prof. Yemi Osinbajo as a "very dependable deputy" with whom he had established a special bond.
The president further said that professor Osinbajo has in the past four years diligently championed the values of setting the foundation for peace, progress, and stability of Nigeria, by working very hard to build a resilient economy while promoting transparency and accountability.
Prof. Osinbajo has shown he is not only a VP for Christians, APC or Yoruba's alone but also, a VP for all religions, political parties, tribes and all geo-political zones in Nigeria.
When you think he is most popular in the south south, a video of him visiting States in the south east will appear, then the argument immediately becomes that he is more popular in that region. In the north and south west, it's the same level of euphoria.
This earned the VP respect of all past governors of the last administration, given that, he is the chairman of the National Economic Council, NEC.
The Kwara State Governor, Abdulfatah Ahmed (a PDP governor), noted that, Chairman (VP Osinbajo) led a strong team through various areas requiring attention in the economy. He made robust efforts in security giving direction, confidence and comfort.
In the same vein, the Borno State Governor Kashim Shettima, said "Osinbajo provided leadership and in the past 4 years, exhibited humility, giving everyone a sense of belonging."
The 36 governors said the vice president treated everybody equally regardless of their political parties.
Professor Osinbajo has been nicknamed the *Star Boy* by the public especially by those on social media yet his popularity has not come without its negative sides.
Some people have sponsored lots of hate and false news campaigns against a man committed to fighting poverty and hunger in Nigeria with his National Social Investment Programmes (NSIPs).
Ask me or any other non-partisan Nigerian of a hardworking and committed political leader and we would all point to Professor Yemi Osinbajo.
It gives me great joy that he is a Nigerian and one that has stood out in all his ways.
Oladele Peter, a psychologist and social commentator