Nigerians Condemn Saraki's Ally And Reps Member Razak Atunwa For Addressing President Buhari As 'Tyrant'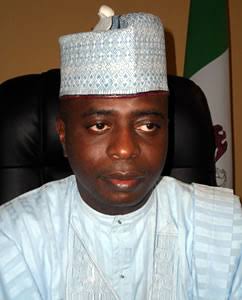 A member of the House of Representatives representing Asa/Ilorin West Federal Constituency in Kwara State, Razak Atunwa, on Friday, received wide condemnation from Nigerians for addressing President Muhammadu Buhari a "tyrant."
The former Kwara House of Assembly Speaker and loyalist to Nigeria's Senate President, Bukola Saraki, had while replying to a tweet argued that any Nigerian is entitled to become President.
His tweet further read: "And by the way, the Supreme Court just declared that the actions of your tyrant in harassing Saraki with CCT is unlawful!"
Meanwhile, the tweet generated negative reactions from many Nigerians who laid siege on Mr. Atunwa to express their anger for dishonorably using uncouth words on President Buhari.
Below are replies to his tweet:
Bashir Ahamad, Personal Assistant To President Buhari on New Media tweeted: "Wow. This is unacceptable Honorable, who did you just referred as tyrant? Hope not President Buhari. We have been unlooking such things for so long, we know everything and we can also attack but we prefer the peace, but you, calling Mr. President tyrant is totally UNACCEPTABLE."
IsaOjibara tweeted: "Do you just refers to Mr President as tyrant? Wow. If he is, he would have lock your boss up even without trial. If you know you're no longer comfortable in APC why not decamp to other party?"
Shittu10 tweeted: "How did we get to this point? A rep member? This man is still carrying APC in his name tag! When will you be man enough to get out of the party? Just include R-APC in your name then you are free to express yourself anyhow! Oshiomole has a lot of house cleaning to do for peace!"
Olatunji Lawal2 tweeted: "Honourable, so in your wildest imagination, giving your benefactor an opportunity to defend himself makes him a tyrant? It's really sad what opportunitistic quest for worldly needs can turn some people into."
DeeOneAyekooto tweeted: "FG took a matter to court and he called that tyrannical? Perhaps PMB should have killed him the way 33 people were killed in Offa."
Shogsyboy tweeted: "The tout calls himself a lawyer. So unfortunate to have such in the house."
Drkool0707 tweeted: "This idiot can never win any election in South west. I wonder what kwarans did to God to bless them with these fools as leaders."
MrDavidJoelAli tweeted: "To see that this kind of tweet is coming from a supposed honourable member of the house of assembly(APC) depicts Gross Insubordination and thus requires proper sanctioning."
Recall that the Supreme Court, on Friday, cleared Mr. Saraki of false asset declaration charges.
The federal government had filed 18 counts of false and anticipatory asset declaration charges against Mr Saraki in 2015.
However, the Supreme Court, in a unanimous decision said the Court of Appeal panel engaged in "forensic somersault" when it held that Mr Saraki should answer three of the charges.