Celebrating the Nigerian Soldier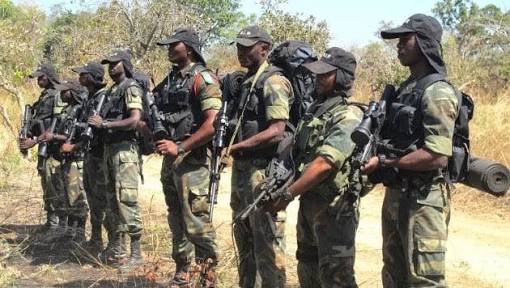 By Brigadier General SK Usman
Today Friday 6th July 2018, the Nigerian Army is celebrating its day for the year 2018, (NADCEL 2018) in Monguno, Borno State. This is unique and a sharp departure from the usual parade, combat march past, weaponry and equipment displays usually at the Eagle Square in Abuja or any of the big cities in the country. That is the not the style of Nigerian Army of today under the able leadership of the Chief of Army Staff, Lieutenant General TY Buratai, a soldier's soldier and the man who made history as the world's acknowledged arrow head and commander of the fight against terrorism and insurgency in our country, Nigeria.
What makes this year's Army Day Celebration in its 155 years of existence quite unique is the fact that it is taking place in Borno State, the north eastern part of country. Some years back it is unimaginable to visit Maiduguri for whatever reason let alone venturing as far as Monguno to celebrate and carry out humanitarian activities. In addition, the Nigerian Army has been showcasing its innovations, research and development and technological advancements in the art of warfare and other aspects of human endeavors. Little wonder that the theme for this year's celebration is "The Nigerian Army and National Security: A Panacea for Nigeria's Economic Development". According to the Chief of Army Staff during a press conference on 29th June 2018, the Army is "determined more than ever before to contribute our quota to national development." The theme is also in line with his vision, which is "to have a Professionally Responsive Nigerian Army in the discharge of its Constitutional Roles" which serves as impetus for the wonderful achievements of the Nigerian Army in the past three years.
The strategic decision to hold the celebration in that part of Nigeria is a very commendable initiative which apart from giving troops greater sense of belonging, it is also sending a very clear and unequivocal signal of the end of Boko Haram terrorists group in our country. It also signifies the restoration of peace and security to the region that for nine years had known any and opening up socio-economic life that would add steam to national development. Therefore, there is every reason for every officer and soldier to be happy, proud and thankful for being part of the Nigerian Army at this point in time of our national history. The unprecedented accomplishments in fighting and defeating terrorism and insurgency and above all, great sense of professionalism within the last three years under Lieutenant General TY Buratai is unimaginable!
I therefore want to take this opportunity to further pray for the souls of our departed heroic, selfless and gallant officers and soldiers of the Nigerian Army who paid the supreme sacrifice or sustained injuries in the course of defending our great nation over time. Their sacrifices would never be in vain. May God grant all those wounded in action speedy recovery. I also want to the celebrate and rejoice with my colleagues; the gallant officers and soldiers of the Nigerian Army whose patriotism and sense of duty made them to place Nigeria before self and willing to pay supreme sacrifice of giving one's life for the sake of our great nation. It is pertinent to also salute the spouses, children and family members of the officers and soldiers of the Nigerian Army for their unconditional love, support, encouragement, prayers and understanding.
I enjoin all Nigerians to appreciate the Armed Forces of Nigeria and celebrate the Nigerian Army at this auspicious annual occasion of the Nigerian Army Day Celebration 2018, for doing the nation proud. The Nigerian soldier is second to none in courage, perseverance, loyalty, patriotism, love for peace and humanity. Thank you so much for daring to tread where no mortals dare and conquer Nigeria's enemies. Your enormous sacrifice enduring harsh climatic and social conditions of leaving your families behind for the frontline for Nigerians and indeed the world, to enjoy peace, liberty and development, makes you special. The pride you brought to Nigeria through these deeds, is extraordinary and would continually be remembered.
Congratulations to all officers and soldiers of the Nigerian Army wherever you might be; here in Nigeria and abroad, as we celebrate yet another Nigerian Army Day today. God bless you all. Happy NADCEL 2018!!
Sani Kukasheka Usman, a Brigadier General, wrote this piece from Jos, Plateau State.