NITDA's Pantami Promises more Growth for Nigeria's Digital Economy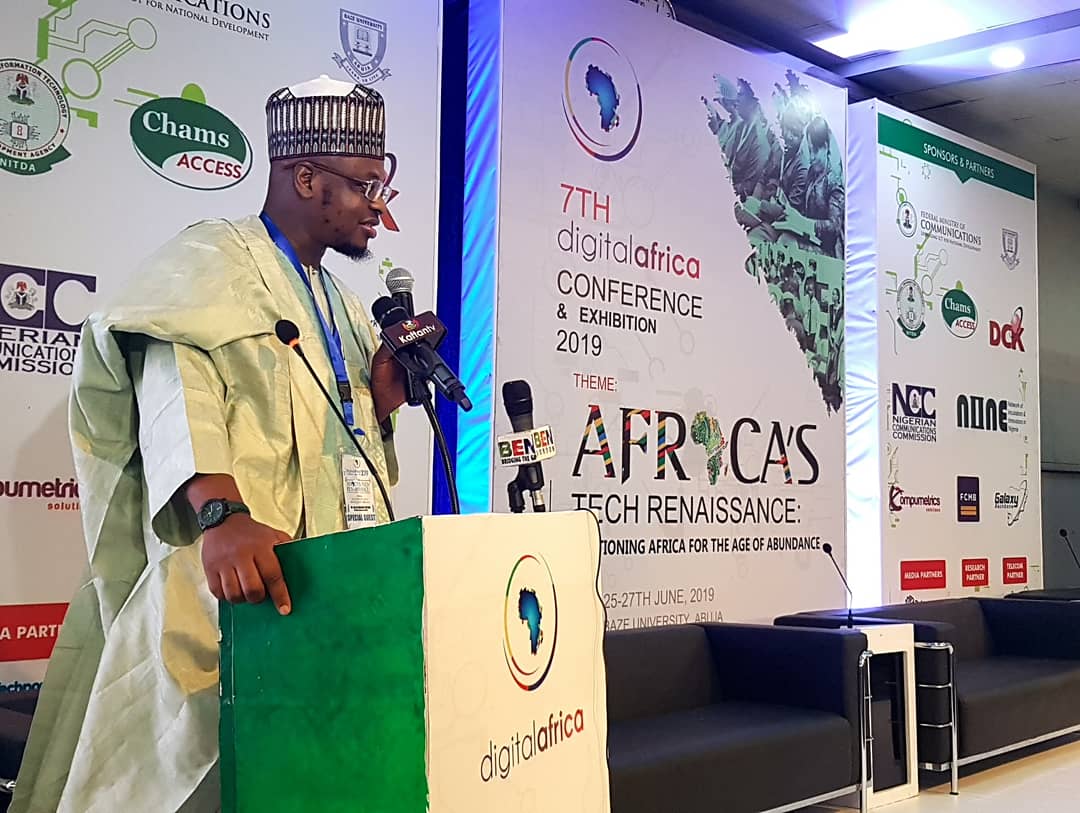 By Ismail Akanji
"Give honour to whom it is due" this often repeated classic came alive on the 10th day of May, 2019 when the Publisher of Swift Reporters, Adewole Kayode, presented, on behalf of his editorial team, the first ever Swift Meritorious Award to no other a personality than the Director General of The Nigerian Information Technology Development Agency (NITDA), Dr. Isa Ali Pantami. To qualify for this award, in the words of the publisher, one must "have demonstrated, over a significant period of time, dedication to the promotion of Information Technology combined with a strong sense of civic duty". This criteria and any other one set, could only have been met by Dr Pantami.
That is how high he raised the bar. His achievements in improving Nigeria's information technology compliance is very visible. Beyond his Agency's characteristic policy of building human capacity by offering scholarships to deserving Nigerians, and strictly on merit, NITDA under the leadership of Dr. Isa has repositioned the IT industry in Nigeria: It has organized cyber security awareness programs to educate Nigerians on how they should operate in the cyberspace; his efforts earned the country the number 4 spot on the African continent in the ranking of the International Telecommunication Union (ITU) on Global Cybersecurity Index.
NITDA under Dr Pantami has identified seven areas from the current administration's priorities and crafted its strategy from this, setting its own agenda on how it would help the government achieve its objectives in the following areas:
– Sustainable home grown products;
– Job creation and wealth generation;
– Revenue generation;
– Capacity building;
– Cost streamlining and waste reduction;
– Anti-corruption; and
– National security.
As governance in Nigeria witnesses a paradigm shift, electronic governance is slowly building it's way into the nation's consciousness. And it should give every Nigerian joy that Nigeria is not being left behind due to the efforts of people like Dr. Pantami. As can be gleaned from the activation and implementation of the Treasury Single Account (TSA), Integrated Payroll and Personnel Information System (IPPIS), Automated CAC processes amongst others, Nigeria's governance space is being defined for the better by technology. Not just to ensure smooth running of governance but even to check excesses and cut the potentials of wrongdoing by the civil service. And even beyond these, these policies are opening Nigeria up to the international commerce space and allowing local entrepreneurs and start -ups earn foreign exchange.
Local Start-Ups have a place in Dr Pantami's heart. His role in helping grow Nigerian companies like PiggyVest cannot be overemphasised. Today they are known for making strides geared towards making it possible for people to accept payments for products and services. Nigeria has an opportunity to establish itself as one of the most attractive FinTech hubs in the world. We have the capacity. FinTech opportunities in Nigeria are expanding by the minute – and the efforts of this industry can potentially redefine the financial services landscape of the world in the next five years.
NITDA has taken the bull by the horn on this. It has not only harmonised all government's IT systems, it has constructed 3 hubs for IT, 80 centres for digital job creation, 8 virtual libraries, 86 centres for building digital capacity amongst other things. They have assumed their role – and rightly so – as the clearing house for all IT projects in MDAs. That means all IT projects embarked by any government institution must follow an approved template and standard set out by NITDA, and it is been implemented vigorously. This would ultimately ensure that substandard technology is not brought into the country, and there is compliance with our laws that give local technologies an upper hand in procurement.
Dr Isa Pantami has not only succeeded in repositioning the agency to a height unattained in its history, he has also made the agency – and Nigeria's information technology space – attractive for investors. He has played a critical role in ensuring government agencies key into information technology framework in their processes and activities. Through the deployment of IT software and hardware in government Ministries and Agencies, Nigeria saves N24.7 Billion monthly.
With all these in place, Nigeria is steadily coming out of the woods and embracing information technology for growth – with Dr Pantami on the saddle, the journey is propitious indeed.
Ismail, is a business man and technology enthusiast, he writes from Abuja.