TRADERMONI SPREADING: VP Osinbajo Launches N10,000 Collateral Free Loans to Petty Traders in Abuja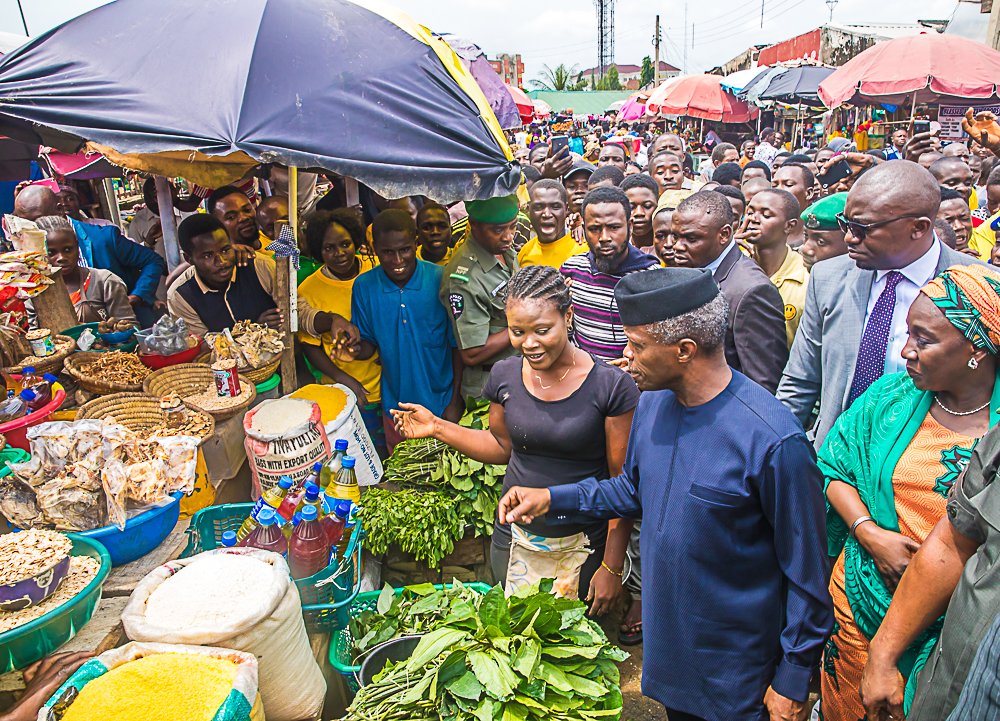 In line with its agenda to spread prosperity and reduce poverty, the Federal Government will continue to initiate and sustain programmes aimed at uplifting Nigerians at the bottom of the pyramid, especially petty traders regardless of socio-political background, according to Vice President Yemi Osinbajo, SAN.
The Vice President stated this earlier today at the formal launch of the FCT TraderMoni programme, a collateral and interest free loan scheme initiated by the Federal Government to assist petty traders across the country. The scheme is part of the Social Investment Programme of the Buhari administration.
So far, the programme has been launched in Lagos, Kano, Katsina, Abia and Osun states and would be extended, in quick succession, to traders in all the States of the federation by the end of 2018.
Speaking to traders at the Utako market shortly after witnessing the disbursement of funds to beneficiaries, the Vice President said every petty trader was eligible to benefit from the scheme and urged petty traders across the country to take advantage of the scheme to improve their businesses.
According to him, "This programme is for the petty traders selling in the markets, it is not for bigger traders. It is for the petty traders to improve their businesses. For now, we are giving you N10, 000, if you pay back in six months or less, you will get another N15, 000. We want to encourage petty traders, so that they can have sufficient amount to improve their businesses."
He assured beneficiaries that the amount given to them would be increased if they paid back their loans within the stipulated period, adding that President Muhammadu Buhari himself was interested in the welfare of the traders.
According to the Vice President, "The one we did before was for big traders under the GEEP programme, we gave them as much as N100, 000. If you do well with this one we are giving you now, we will increase the amount.
"Everybody can benefit from this scheme, the President himself has said that he wants to make sure that those who are selling small items in the markets benefit from this programme.
"When we give you this money, we want you to pay back and no interest is involved."
Earlier on arrival at the market, Prof. Osinbajo went round interacting with petty traders before he proceeded to address traders who had thronged access roads around the market to receive him.
The Vice President was accompanied to the programme by two Ministers of State: Industry Trade and Investment, Hajiya Aisha Abubakar and Zainab Ahmed among other top government officials.