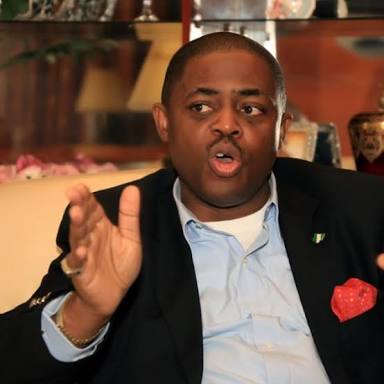 On Sunday, 1st April, 2018, the Minister of Information, Alhaji Lai Mohammed released a second list containing twenty-three names of looters of the national treasury during the reign of former President, Goodluck Jonathan. As widely expected, the name of Uncle Femi Fani-Kayode appeared on the list as a Looter.
Since the list was published, Uncle Femi Fani-Kayode, you have been busy ranting to anyone who cares to listen. As expected of looters like you, you claim that you did not loot any government funds during the reign of Goodluck Jonathan but that the sum of N800 Million (Eight Hundred Million Naira Only) was given to you by Mrs Esther Nenadi Usman, the Director of Finance in the Jonathan Campaign Organisation for conducting of the media and publicity aspect of the campaign. You further claimed that the Eight Hundred Million Naira came from a private company account that was used to house contributions made to the Jonathan campaign by party supporters after a series of fundraising events. Uncle Femi, please say this to the Marines. Your knowledge of the source of the money was even revealed at your trial by one of the witnesses, Mr. Victor Ehiabhi, your security aide who collected N26 Million in cash on your behalf from the Office of the National Security Adviser on the 21st of November, 2014. Even Mrs Esther Nenadi Usman has admitted collecting the money from the national treasury. And just as your comrade Reno Omokri admonished you, may I also remind you of the quote by the late Daniel Patrick Moynihan that "You are entitled to your opinion. But you are not entitled to your own facts." The fact speaks for itself, sir.
As a trained lawyer, you should know better than rehashing stories that are not even believable by infants. Where in the world are campaign funds warehoused in private company accounts? In the UK where you schooled, do they transfer funds for media campaign into the personal account of the Head of the Media Team of the campaign? Uncle Femi, by your own admission you have made the work of the Prosecution very easy. I can't believe you are this daft! It is obvious that while your mates were busy studying their Law Books in school, you were busy gallivanting and engaging in various dangerous social vices as widely reported severally in the media for several years now. Uncle Femi, you know very well that between the 8th and 16th of January, 2015, the sum of N1.5 Billion was released from MEA Research Library Account which is a secret account under the control of the National Intelligence Agency (NIA) to Jointrust Nigeria Limited (Owned by Danjuma Yusuf and Nenadi Esther Usman) in the following tranches:
1. N300 Million;
2. N400 Million; and
3. N800 Million.
From the N1.5 Billion transferred to Jointrust Nigeria Limited (Owned by Danjuma Yusuf and Nenadi Esther Usman), the sums of N350 Million and N250 Million were transferred to your personal account domiciled at Zenith Bank with Account No: 1004735721 on 2nd February, 2015 and 19th February, 2015 respectively.
Uncle Femi, it is very bad that you can't even occupy any public office without ''chopping'' from the first day. Must you chop always? Remember, you were a Minister of Aviation for just six months (November 2006 – May, 2007), and you were charged immediately thereafter for stealing about N19.5 Billion (Nineteen Billion, Five Hundred Million Naira) Aviation Intervention Fund by the Economic and Financial Crimes Commission (EFCC) in 2008. This was during the tenure of President Umaru Yar'adua, your party man, so the issue of political witch-hunt and persecution as you now falsely claim cannot hold water. The story of your trial and acquittal is for another day. The bad news for you is that this time around, there is no room for manoeuvre thanks to the reforms of the judiciary being carried out by the CJN.
You were the Head of the Media Team for Goodluck Jonathan campaign for just a few months, and you ''wacked'' N800 Million sharp sharp!!! Uncle Femi, your fingers are very fast O! You quickly served yourself at the buffet which was organised by your boss, former President Goodluck Jonathan, with the national treasury as the only menu. I don't blame you sir. Afterall, I don't expect you to reject such a huge lifeline after being in the wilderness for years? You saw an ''awoof'' of N800 Million and grabbed it with your hands and legs. You and your family enjoyed the good life with N800 Million of our money while majority of your countrymen went to bed hungry. You forgot your Christian faith when you were feeding fat on your share of the loot. You are crying now because this awoof don run your belle, ole jati jati like you! Your dependence on public funds is bad for your health sir; for since you were cut off from the treasury after the 2015 Elections, the withdrawal syndrome has made you so frustrated and caused you to resort to ranting, abusing and cursing everybody. You even curse those that are far older than you which is alien to Yoruba culture which you propagate. A Yoruba that curses his elders is an ''Omo Ale.''
Uncle Femi, it is because of people like you that some of the older generation do not reckon with the youths of this Nation. You became a Minister in 2006 at the age of 46, and yet added no value to the lives of Nigerians. The only legacy you left is corruption. You led the Media team of President Jonathan who superintended over the looting of our common patrimony but refused to advise him on good governance based on scriptural principles which you now espouse. Instead you were only concerned with taking your huge share of the national treasury. Uncle Femi, it is obvious you really imbibed the table manners you were taught as a child; for you could not talk while you were eating. This makes it laughable to hear you write and speak so much now. You have suddenly become an apostle of good governance and a defender of the Christian religion. It took hunger and deprivation to get you there because the feeding bottle is gone, and you are crying so hard. This time, you won't get the bottle back. It is time for you to work before you eat as the era of freebies is over. Get to grips with it sir! As the Bible rightly puts it- He who does not work should not eat. Uncle Femi, get engaged in something meaningful so you can have something to fend for your family. Remember you are still in the business of making babies, and the money for pampers and milk can no longer be sourced from the treasury.
Uncle Femi, in other climes, you would be bowing your head in shame and showing remorse on national television but since you are shameless and hungry you won't do so. Uncle Femi, you have been labelled correctly, so that Nigerians would know those that have kept us where we are today. Do you know how many Primary Health care centres would have been equipped with that N800 Million you cornered for just yourself? Do you know how many Nigerians from your native Ile-Ife would have been lifted out of poverty with that N800 Million you looted? That N800 Million would have helped to feed thousands of primary school pupils for months on the School Feeding program of the Federal Government. That N800 Million would be enough to pay the sum of N5, 000 to over One Hundred and Sixty Thousand poor Nigerians on the Social Investment Program of this Administration. That N800 Million would be enough to pay the sum of N30, 000 to over Twenty-Six Thousand Youths on the N-Power program. It would have been enough to disburse as grants and loans to thousands of farmers and SMEs with the attendant multiplier effect on their families, dependants and the economy. It would be enough for FERMA to rehabilitate several roads around Nigeria thereby preventing fatalities caused by bad roads.
That N800 Million would have been enough to make the difference in the lives of thousands of Nigerians, but you chose to loot it for your own benefit only. Uncle Femi, you chose to forget that our criminal laws forbid stealing and prescribe punishment for same. Nobody told you to loot N800 Million sir, so don't blame anybody for your predicament. The average Nigerian who hasn't stolen anything has nothing to fear. Resorting to name-calling is diversionary and expected as you obviously have no other defence. Uncle Femi, you should dance to the tune of the music you play; for the day of reckoning is surely here. Your induction to the Hall of Shame is very well deserved. The hottest part of hell has been specially reserved for you. But before you transit to hell, return your loot biko, and let Nigeria thrive! Truth is like oil; no matter how much water you pour on it, it will always float.
By Akinloye James