Gov. Ambode Commends Minister, says Lagos Will Support FG to Host Tourism Meeting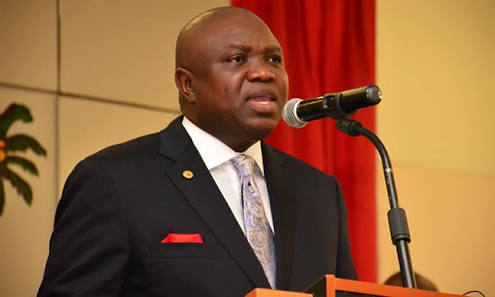 The Governor of Lagos State, Mr. Akinwunmi Ambode, has commended the Minister of Information and Culture, Alhaji Lai Mohammed, for his efforts to reposition culture and tourism in the country.
The Governor gave the commendation when the Minister paid him a courtesy visit in Lagos on Thursday, in connection with Nigeria's hosting of the 61st Meeting of the United Nations World TourismOrganization Commission for Africa (UNWTO/CAF) in Abuja 4-6 June 2018.
"I will like to welcome the Minister of Information and Culture back home to the Centre of Excellence. It is always a delight to welcome people like him. He has been very impactful in the last three years in the Ministry of Information and Culture," he said.
Gov. Ambode assured that the Lagos State government will support the Federal Government in order to ensure a successful hosting of the global event, adding: "We are happy to associate with President Muhammadu Buhari and the Minister of Information and culture in their efforts to reposition tourism and diversifying the nation's economy."
Earlier, the Minister had said he was in Lagos as part of his nation-wide promotional tour for the 61st edition of the UNWTO/CAF Meeting.
"We kickstarted the tour in Abuja on Tuesday with a visit to the Minister of the Federal Capital Territory, because he is the Minister of the Meeting's Host City. This is the second stop on the promotional tour that will take us across the country. Lagos, the economic nerve centre of Nigeria, is also a foremost tourist city. It is therefore not a surprise that it is our next port of call after Abuja, which will host the UNWTO/CAF Meeting," he said.
Alhaji Mohammed said the Meeting is a great opportunity to promote Nigeria's tourism industry and to showcase the country to the world, especially in the area of its culture and tourism, adding: "And of course, we have a lot to showcase: Our tourist attractions, our rich culture, as well as our music and films, which have taken the world by storm is very important"
He said Lagos State is crucial to the success of the Meeting, especially because the state will host the Technical Visit programme of the Meeting
"A major part of the programme is what is referred to as the Technical Visit. For this, we have chosen the Eko Atlantic City as the destination. The choice is not an accident. It is designed to showcase to the world a city that promises to be a tourist haven, with the largest shopping mall in sub-Saharan Africa," the Minister said.
He said the UNWTO/CAF Meeting will be attended mostly by delegates drawn from the 51 member states of the Commission for Africa, the Executives of the UNWTO, international Organizations, local and international media as well as experts and stakeholders from the public and private sector.
Segun Adeyemi
SA To Hon Minister of Information and Culture
Lagos
12 April 2018