Why Buhari Supports States and Offers SIP Benefits to All Without Partisan Considerations, By VP Osinbajo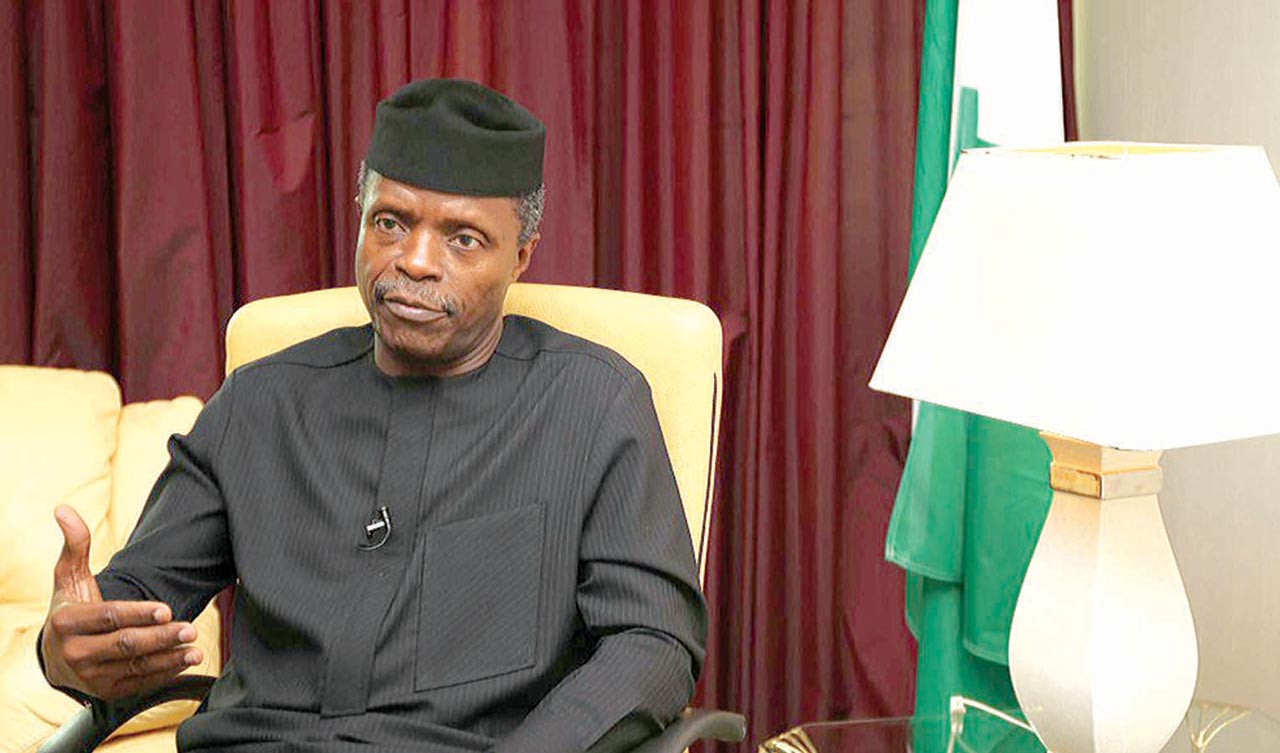 "This commitment has meant two things. First; is President Buhari's determination to break from the past where the Federal government only supported States where the party in office was their own. At the inauguration of the NEC in 2015, he publicly declared that our own NEC will assist every State because poverty in our nation is no respecter of ethnic group, religion or party affiliation. Consequently, as of today the Federal government has supported States without discrimination along party lines to the tune of N1.91 Trillion."
"Let me take this opportunity to assure the Governor, the Government and people of Abia State of our unwavering commitment as the FG, to partnering and collaborating with you on any and all programmes intended to make life better and easier for Nigerians. We will certainly continue to look for opportunities like this to work with and support you and other State Governments."
PREPARED REMARKS BY HIS EXCELLENCY, PROF. YEMI OSINBAJO, SAN, GCON, VICE PRESIDENT, FEDERAL REPUBLIC OF NIGERIA, AT THE LAUNCH OF ABIA STATE TELE-HEALTH SUPPORT CENTER IN UMUAHIA, ABIA STATE ON THURSDAY, 12TH APRIL, 2018.
Protocol.
I am delighted to be here today to express the support of the Federal government for, and to launch The Abia State Tele-Health Support Center. This is a giant leap forward, in terms of Universal Basic Healthcare, for the people of Abia State. The work of investing in people is a responsibility jointly shared by all levels of Government in Nigeria, and collaboration between all levels of government is the right and responsible thing to do in the interest of our people. This explains why I am present here not just to witness but to fully align with this demonstration of Governor Ikpeazu's ongoing determination to make a positive mark in the lives of Abians.
This is an especially exciting project because it is leveraging available technology, in this case the mobile phone, to deliver affordable healthcare to the people of the State. In a country like ours, a readiness to embrace modern technology is critical and compulsory if we're truly determined to swiftly bridge longstanding gaps in the quality and quantity of healthcare and education available to our citizens.
We know that one of the most readily available forms of technology in Nigeria today is the mobile phone. I am told that Aba alone has around 1.5 million mobile phones. Across Nigeria, the mobile phone has changed lives, mostly for the better, giving people access to life-changing educational information, enabling them to set up or scale up their businesses, amongst other benefits.
Now, Abia State is taking the lead in utilizing the potential that mobile phones have to serve as a means of delivering healthcare to people, especially the most vulnerable and most disadvantaged citizens.
With this Tele-Health Support Center, also known as the Dial-a-Doc Initiative, I am told that citizens can now, through a dedicated telephone line, and affordable pre-paid cards, access medical care and support from a state-wide network of doctors who will be able to communicate in local languages.
This initiative will cut down the time spent traveling in search of healthcare, or waiting in line to see a doctor in healthcare facilities, and close the access-to-healthcare gap between our urban and rural areas. It will also make Abia State standout, within and outside Nigeria, as a forward-looking, people-centered State; one that is open to new ideas and to life-changing innovation.
Ultimately, the success or otherwise of this programme will depend on the willingness of the operators to take on feedback and make the adjustments necessary to meet the evolving needs of the intended beneficiaries. I am sure that as you execute the programme, these lessons will be helpful not just to you but other States who will adopt this exemplary Initiative.
You are all well aware of President Muhammadu Buhari's commitment to the welfare of all Nigerians, especially the poorest and most vulnerable among us, regardless of their ethnic, or political affiliations.
This commitment has meant two things. First; is President Buhari's determination to break from the past where the Federal government only supported States where the party in office was their own. At the inauguration of the NEC in 2015, he publicly declared that our own NEC will assist every State because poverty in our nation is no respecter of ethnic group, religion or party affiliation. Consequently, as of today the Federal government has supported States without discrimination along party lines to the tune of N1.91 Trillion.
The second is that the Federal government has prioritized social and economic policies and programmes that will bring the greatest benefit to the greatest number of our people.
We have examples of these in our Social Investment Programmes.
Today we are feeding 7.5 million children in our Homegrown School Feeding Programme in 22 States. We have employed 200,000 graduates in our N-Power scheme, 300,000 more are waiting to be formally engaged. Every single local government in Nigeria is covered. We are giving loans to over 300,000 traders and artisans, and we are giving N5,000 monthly to over 300,000 of the poorest families accross the States, all without discrimination along party lines.
Here in Abia we have 3,262 beneficiaries of the N-Power with another 8,023 to come on board shortly.
We are feeding 125,624 pupils in 742 schools and we have 1,569 cooks in total, for microcredit loans under our GEEP scheme we have given loans to 7585 small businesses. (so far we have invested about N2,395,585,900(about N2.4b) in SIP funds in Abia State) and specifically in healthcare we have the Saving One Million Lives Initiative, which has made available 1.5 Million USD to each state government – including Abia State – to improve the quality of basic healthcare available especially to our women and children.
Let me say that the FG's plan for the nation is Universal Health Coverage for all Nigerians. Health insurance is the most effective way of ensuring access to healthcare when needed and at the same time funding our healthcare system, and ensuring that healthcare personnel are well rewarded.
Just yesterday I had the pleasure of hosting the Director-General of the World Health Organisation and we talked about the implications of the implementation of Universal Healthcare Coverage.
Let me take this opportunity to assure the Governor, the Government and people of Abia State of our unwavering commitment as the FG, to partnering and collaborating with you on any and all programmes intended to make life better and easier for Nigerians. We will certainly continue to look for opportunities like this to work with and support you and other State Governments. I must again commend my very dynamic brother and friend, the Governor of Abia State, Governor Okezie Ikpeazu on this laudable intiative.
On this note, It is my special privilege and pleasure to formally flag-off the operations of the Abia State Tele-Health Support Center, for the use and benefit of the people of Abia State and to the glory of God.
Thank you.
God bless Abia State and God bless the Federal Republic of Nigeria.
Released by
Laolu Akande
Senior Special Assistant to the President, Media & Publicity
Office of the Vice President
12th April, 2018