We have reached a 7,000 MW Generation Capacity and have a 5,000 MW Distribution Capacity – Fashola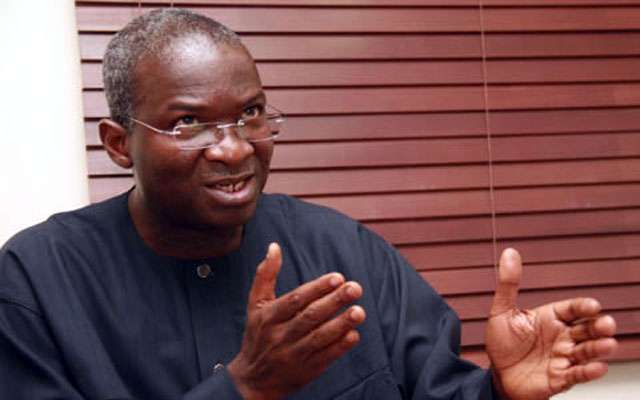 REMARKS BY H.E, BABATUNDE RAJI FASHOLA, SAN AT THE 25TH MONTHLY POWER SECTOR OPERATORS MEETING HELD IN UYO ON MONDAY THE 12TH OF MARCH 2018
I welcome you all once again to our monthly meeting, and I thank our hosts Ibom Power and the Government and people of Akwa Ibom.
I am happy to again chair this month's meeting because our Power Sector Recovery Programme (PSRP), the set of policies, actions and programmes meant to solve the Power Sector problems, continues to make progress and deliver results.
Over the last one month since our last meeting, I am pleased to report the following progress.
A)    Financial:We have secured the World Bank approval for $486 Million TCN transmission expansion funding, while progress is being made with the same bank for the Rural Electrification and Distribution Expansion Funding.
B)Operational:TCN has completed the following sub-station transmission expansion to improve their capacity to supply power to the DisCos : Uyo, Calabar, Keffi, Karu, Abeokuta, Nasarawa to mention a few.
C)Distribution:While it is no longer news that we have reached a 7,000 MW Generation Capacity and have a 5,000 MW Distribution Capacity, what is newsworthy is that in the last month, we have met with Manufacturers Association of Nigeria (MAN), DisCos, and GenCos on how to implement the Eligible Customer Policy and increase connectivity to the 2,000 MW that is available.
The meeting was productive and we are seeing positive responses. Reports reaching me indicate that what is outstanding is an agreement on the tariffs that will be paid by the eligible customer.
In many parts of the country connected to the grid, citizen feedback is positive, even though all the problems are not solved. Citizens acknowledge more power in dry weather, reduced hours of running their generators and reduction in fuel (diesel and petrol) purchase to power generators.
D)Off-Grid Power: In terms of off-grid supply, I am happy to report that citizens are already embracing the mini-grid policy and regulations to provide power for different uses.
i) In Ogun State, a renewable energy project was completed and commissioned last month.
ii) In Kano State, I commissioned a 73KW Solar Hybrid System developed by Rumbu Industries to support its mat production in a factory that employs 1,400 people.
         iii) Within the same period in Kano, I inspected the Solar system being deployed in Sabon Gari Market, that has 12,000 shops.  About 3,000 shops have registered, and 486 shops have been connected to cheaper and more efficient solar power. More shops are being wired by 120 technicians employed by the project.
iv) In Abia State, work has commenced to connect and meter 31,000 shop owners in Ariaria Market to cleaner and more efficient power.
v) We are moving away from theorizing about power to actual provision of efficient power to support trade and business, especially small and medium enterprises, who are the drivers of our economy.
E)Meter Asset Provider:On the meter supply side, I am happy to announce that NERC has concluded the Regulations that will provide the framework to license a new class of meter asset providers to complement the efforts of DisCos to supply meters to citizens.
Government decision to pursue an out-of-court settlement on a meter contract awarded since 2003, which was held up in Court until 2017, has made available about N39 Billion to kick off this process.
I am aware that Yola DisCo is already positioning to take up 400,000 meters once the contract and process formalities are concluded. I am told that Abuja, Ibadan, Kano, Ikeja and Benin DisCos are also embracing the initiative, which has reserved a 30% local content for the meters to be supplied under the Regulations.
Ladies and Gentlemen, our incremental power initiative is well underway. Some results are manifesting, and the promise of steady power is real. If we persevere, I am certain that we will witness uninterrupted power, which is the final destination of our journey.
But (and this is a big BUT), our journey will not be without difficulties, and some of them are self-made.
Lately, I have read reports that some Generation Companies (GenCos) (not Ibom Power) have gone to court, filing claims against the Government. That is their right and their prerogative. It is better than self-help, and it is consistent with the rule of law, which underpins our democracy.
While they seek refuge in a court of law, they must be ready to face scrutiny in the court of public opinion.
The court of public opinion is a court of conscience and morality. In the court of public opinion, they must be ready to tell the citizens how they felt when other groups went to court to stop the implementation of Tariffs approved by NERC in 2016.
They must explain to this public court whether they went to court before government approved a N701 Billion payment Assurance Guarantee to pay their monthly power bills.
They must disclose to this court that they owed debts, from the pre-Buhari era, because their income had reduced to less than 50%.
They must disclose to this court that they now receive about 80% income, and that this Government is now paying them revenues collected from international customers from the Republics Benin, Niger and Togo, in Dollars, as against the Naira payment they used to receive.
In both courts, they must disclose how they felt when some DisCos went to court to stop the enforcement of Provision of Promissory Notes, which was a condition that denied them access to the CBN NEMSF low interest loans.
They must tell the court of public opinion that the reason for going to court is because Government is making 100% payment to a new GenCo who has a different contract with a Partial Risk Guarantee, which they do not have.
They must also disclose to both courts that they held a meeting with Government and tabled their demands, which Government promised to look into one week before they went to court.
They must, in good conscience, tell the two courts whether one week was enough time, to go to court and whether this action at the time when the sector is making progress does not suggest an intention to blackmail Government and hold the citizens hostage.
Let me say very clearly to all operators that I get reports of many of the clandestine meetings that some of them are holding with a view to disrupt supply for political capital.
I will close by imploring those that are truly ready to run the business they have acquired voluntarily to continue to do so with the assurance of Government support and partnership.
As for those who entered the business without understanding it, please brace up for hard work and help us rebuild this country.
Those who choose to hide temporarily in the courts of law can do so, but the court of public opinion will scrutinize you and its verdict may be very scathing, unkind, and enduring.
I say this because you may not have noticed that Nigerians are increasingly taking their destiny in their hands.
This is the essence of privatization. If you bother to look up and around you, you will see solar panels on rooftops. The mini grid regulations allow them to procure 1MW without license. This is bigger than what many traditional generators supply. There is no law that compels them to take public power.
I am not afraid of the law courts, and will meet you there to vigorously defend our position.
Thank you for listening.