We Should Establish a System of Consequence for Misdeeds – VP Osinbajo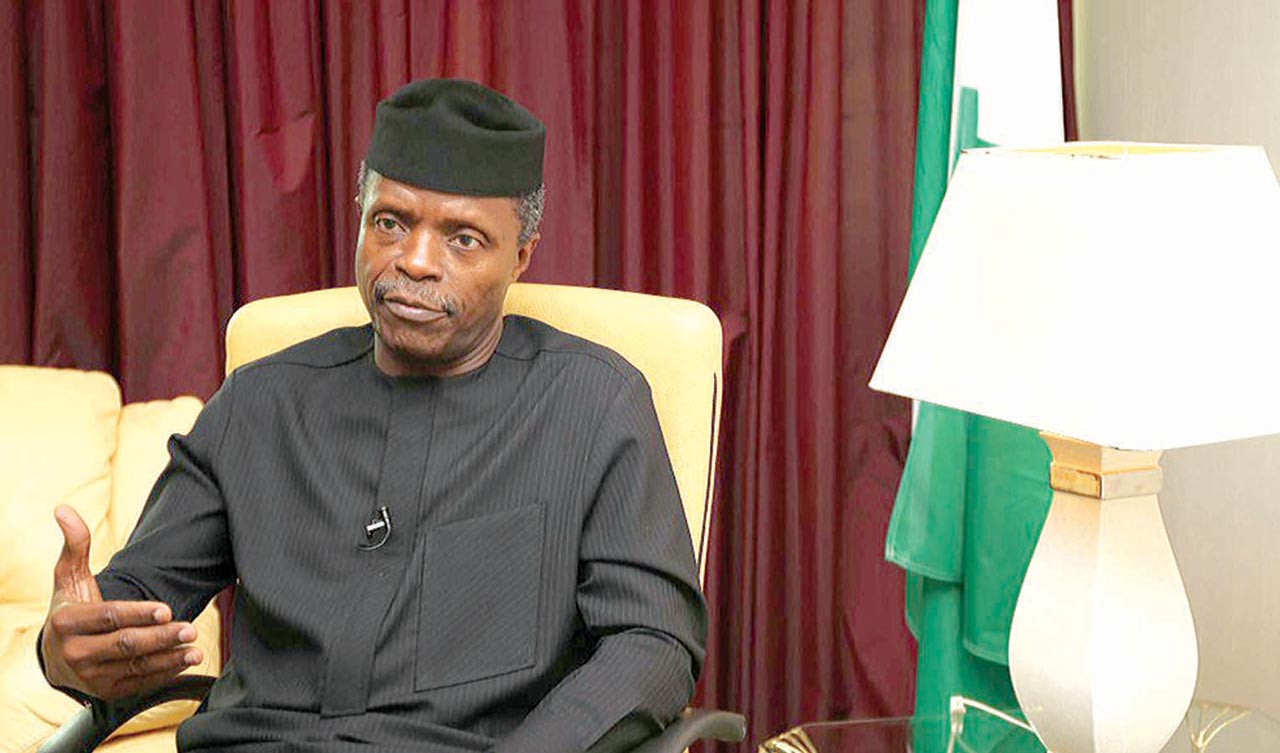 Vice President Yemi Osinbajo SAN, has called on institutions like the Nigerian Bar Association (NBA) to ensure the effective administration of justice for building a society with strong moral values.
Prof. Osinbajo said this today during an interactive Q&A session at the 58th Annual General Conference of the Nigerian Bar Association (NBA), with the theme: Transition, Transformation & Sustainable Institutions; held at the International Conference Centre, Abuja.
According to the Vice President, beyond government actions, every Nigerian has a responsibility to ensure that there is consequence for wrongdoing.
He said, "If you look at the whole question of how to develop a moral society, a society that is driven by values and principles, I think one of the major issues with that is to understand where we are coming from and how to resolve that problem. There is a great deal of moral and institutional decay. I don't think there is any question at all about that.
"Just taking an example of corruption. It is systemic, this is a sort of thing that had eaten so deep into societal fabric, and it's difficult to simply say that you can do that by just being exemplars of moral conduct. There is a lot more that needs to be done. One, there is a need to establish a system of consequence for misdeeds, for wrongdoing.
"Now that is a very important issue, and it is one I believe applies to the Bar, as well as to the rest of society, maybe more to the Bar. I think the most important part is that everyone has a responsibility to ensure that there is consequence. I think we are at a point where there is a moral dilemma as to how it is that we should visit that consequence.
"One of the major problems we have had is with the legal process, ensuring that the legal process is able to deliver justice within a reasonable time, especially where the matters concern issues of public corruption and all of that. There are several cases that have been in courts. The government is frequently criticized for not being able to secure convictions, there are arguments back and forth… but all of this has to do with our administration of justice system, and we are very much a part of it.
"So, I think that there is a sense in which, to an extent, we must accept some responsibility. The law society, for example, in England, accepts responsibility for the discipline of lawyers, even when lawyers engage in dilatory tactics in courts. So, if a lawyer wants to delay a case as a strategy for either winning the case or hoping that, years after, the matter would be forgotten, that kind of lawyer would lose his shirt in any other jurisdiction. But here, it's become an accepted tactic; dilatory tactics is part of our system of doing business.
"I think that, beyond government, strong institutions such as the NBA (Nigerian Bar Association), must really rise to the occasion; and it really calls for self-regulation. Government is not going make the laws to change that, and this is an ecosystem we are in control of; we should be able to say, "we are going to put our foot down here, we are not going to allow a situation where the administration of justice is ineffective." Because once it is effective, building a moral society is undermined almost entirely. So, this is an aspect where we, at least, can do something."
On the Buhari administration's Economic Recovery and Growth Plan (ERGP) in transforming the lives of the poor in the country, Prof. Osinbajo said the impact has been significant.
He said, "This informs the approach of this government to the whole question of wealth creation and poverty alleviation. We started off in 2016 looking at the budget that was crafted differently; we look at economic policy from a top-down approach, we look at how to improve industries, manufacturing, how to give loans to usually medium-scale to big business. But the bottom of the pyramid has always been largely ignored. So, the approach that we adopted from 2016 is a two-pronged approach. One is in first creating a safety net as much as that is possible. So, for the first time, we put in the budget N500 billion for the Social Investment Programme, the largest programme of its type in the history of this country.
"It includes schemes such as the Conditional Cash Transfer (CCT) to cover one million of the poorest; the N-Power, which is a scheme for providing jobs, which now has 500,000 graduates employed under the programme. We also have the TraderMoni scheme, a micro-credit scheme for the bottom of the pyramid, which will cover two million petty traders.
"One way of at least containing poverty and improving the capacity of the people to create wealth is to put money in their hands, which is really what the Social Investment Programme is about. It is working because we can see a substantial improvement in the capacity of people to earn money and to do better for themselves."
Prof. Osinbajo further said, "Almost 400,000 households are benefitting from the CCT. There is a clear improvement in their lives and in what they are doing. Compared to the whole, it still is small, but this is where we are going, we know that the only way to deal with poverty is to incrementally increase the capacity of people to earn and put more money into their hands. For us, the key is ensuring that the people at the bottom of the pyramid earn more."