And Bill Gates Gave Them Something to Cheer About! by Charles Okoye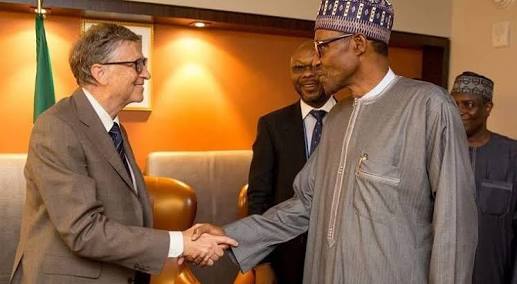 Bill Gates opines that Nigerian government should have prioritized human capital development ahead of physical infrastructure, and PDP and the Wailers are having orgasm again! They are now thoroughly sapped and satisfied. Lolzz! Suddenly, Bill Gate has given them something to gloat about again! Sorry elements!
But how much does Bill Gates really know about Nigerians' need … immediate need particularly?
Mr Gates, we no get light! Which economic development can you have without power supply? Go and ask a barber who ran his business 24 hours on generator how he thrived as a businessman, or the thousands of fabricators and manufacturers at Ariara what being in business meant to them. Today, for the sake of sustainable economic development, this government has worked assiduously to visibly improve power supply.
Mr Gates, we no get roads! How do we distribute with the death trap PDP bequeathed to us as a nation? Gates should have seen how fallen heavy trucks littered our roads due to impassable roads. A responsible and visionary leader is condemned to declare emergency on the nation's roads. And today, for the sake of sustainable economic development, that is what this government has done.
Mr Gates, we no get factories and industries again! Under their supervision sir, our industries and factories went comatose, and were converted to private schools and churches. Today, for the sake of sustainable economic development, old and abandoned factories and industries have started receiving fresh breath of life, with new ones springing up here and there.
Mr Gates, our refineries no dey work ooo! What economic priority would a major oil-producing nation who imports petroleum have over the rehabilitation of her refineries? And those that gloat today were the same elements that watched and supervised the burial of these national assets. So, if you were our president, what should be your priority?
Mr Gates, we dey import everything for this country, even toothpick ooo! So, wetin you fit talk for this one?
Dear Bill Gates, there are hundreds of other points I can give to show you that you really didn't know what Nigeria needed to prioritize, but this is morning, and business calls.
Your opinion, sir, was obviously well intended, but it is clear you have in your mind, a nation like America, that was neither encumbered nor cursed with PDP's 16 years of locust attack. Sir, cast your mind to old Rwanda, Nigeria right now is just like a nation emerging from the wreckage of war. Like the air we breathe, we need roads, we need power, we need to rebuild our industries and factories destroyed while the war raged. We need our hospitals to cater for the casualties of this unfortunate war.
You mean well Sir, but you don't know where we have just emerged from!