Nigerians blast Reno Omokri over divisive comment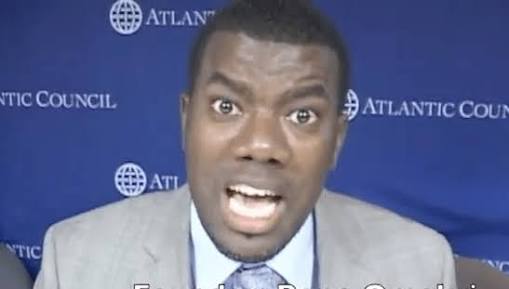 Nigerians have taken to social media to express their disgust at Reno Omokri's divisive comments made on Twitter on Friday, 23 March.
The former social media aide to ex-president Goodluck Jonathan known for his uncouth attacks on the Buhari administration yesterday urged Vice President, Prof Yemi Osinbajo to speak up for the Christian community sparking a religious divide in the country.
Omokri was reacting to the refusal of the Islamist sect, Boko Haram to release Leah Sharibu, one of the abducted Dapchi school girls who refused to convert from Christianity to Islam.
"Vice President @ProfOsinbajo, a Pastor, is quick to publicly speak lies against @GEJonathan and others. Yet this same man has not thought it wise to even say one word of comfort to the parents of Leah Sharibu and the Christian community who are in deep anguish over her ordeal!" he tweeted.
Responding to Omokri on Twitter, Sam Ayorinde urged him to leave religion out of the abduction of Dapchi girls. "Ogbeni, stop dragging Christianity into politics just because you want to make a point."
Remi Oyebisi shared a similar view. "The President has already spoken, when the president speaks, it covers the entire presidency. So the prayers of @Mbuhari for the return of Leah, is also is the wish of @ProfOsinbajo."
Dele One Naija's position was rather stern. "Foolish man! I pity those that listens to you. Where will calling out the Vice president lead you? Even the Bible said thou shall not judge. So who is the real God fearing person here? Nonsense!"
Victor Anyawu told Omokri not to politicize every happening in Nigeria. "How do you guys sleep at night? Must everything be political? You can't just focus on Leah and pray for her safe return without attacking someone else. Such a shame."
Mike Amobeda tutored Omokri on the difference between the Christian Association of Nigeria president and Vice President of Nigeria. "Reno the judge of all saints. Before you mislead your followers please remember that @ProfOsinbajo is today the Vice President of Nigeria and not the Vice President of CAN. Isn't there a distinction anymore or you just don't see it?"
Odunola Success, a follower of Omokri described him as a let down. "You have disappointed me on this your tweet that is just geared toward criticising the Vice President. I used to have deep respect for you but for this, Omokri you really fall my hand."
Babatunde Idowu tried calling Omokri to order on his tweet. "Reno! Reno!! Reno!!! Will you keep quite!!! Must you politicize everything, what are the lies against GEJ?" he quizzed.
Sir Fregs urged Omokri to stop lying. "You have so much negativity in you and you tell too much lies. I am blocking u man!
Isaacwemmy Wemmy tweeted, "I suggest you become his (Osinbajo) spokesman. That is if he find you fit".
Asiwaju Fans wrote, "Pastor @renoomokri when will you stop being bias and be true to the word of God you claim you hold on to? You call yourself a pastor but an iota of the doctrine doesn't reflect in your life. I would advise you to stop bringing shame to the gospel and the doctrines.
President Muhammadu Buhari has however assured the family of Leah and Nigerians of her safe return in a series of tweets.
"It is disheartening that one of the girls, Leah Sharibu, remains in captivity. Let me assure that I am as committed to her freedom as I was to the girls' freedom when all 110 of them were in captivity.
"We will do everything in our power to bring Leah back safely,"
"My heart goes out to Leah's parents, who must watch other parents rejoice while their own daughter remains in captivity.
"It is my responsibility, under the Constitution of Nigeria, to protect all Nigerians—and I will always strive to do that. Leah will not be abandoned," Buhari