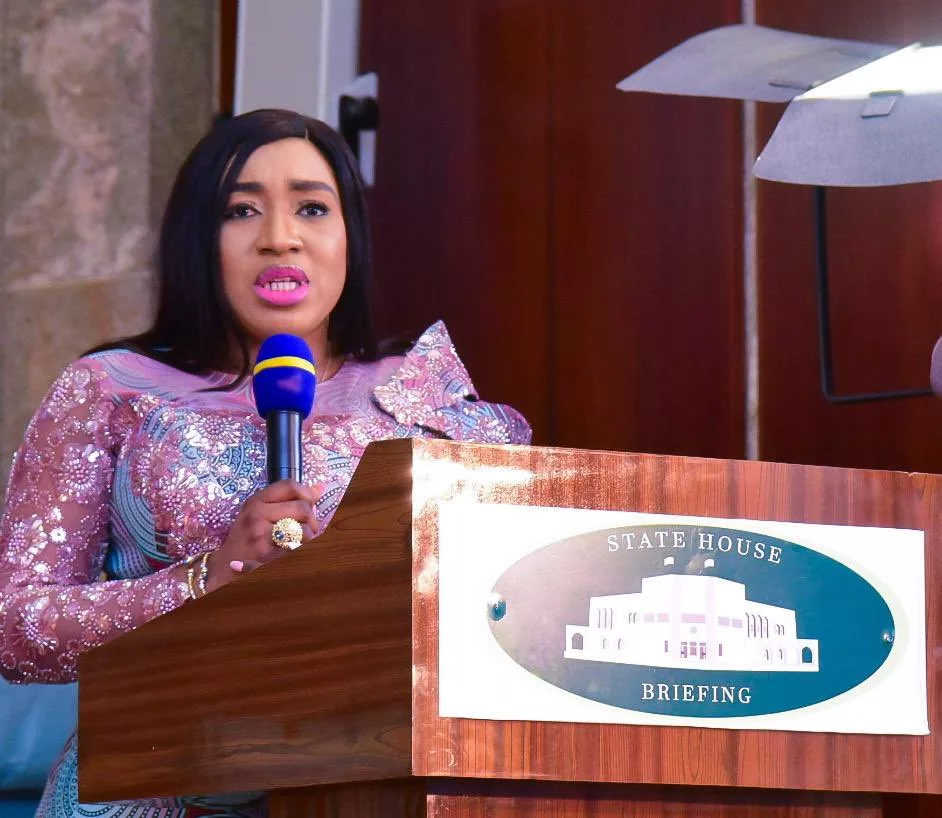 By Prosper Aghanti
There is a bull in a shop; this time around, not in a China shop, but in President Bola Ahmed Tinubu's cabinet.
Betta Edu has taken off on a confused step, accelerating dangerously as the Minister of Humanitarian Affairs and Poverty Alleviation, such that if not cautioned, she may likely paint the much touted Renewed Hope administration in stained colours of scorn.
Lamentably, we present her catalogue of humorous, yet costly, gaffes since her ascension as minister of a revered ministry that bookmakers rightfully dubbed as one of the fancy jokers of the Buhari administration.
Barely 48 hours after she resumed office in her assigned Humanitarian Affairs and Poverty Alleviate Ministry, and even before she had received briefings from the vast majority of the programmes and agencies under her watch, Betta Edu reportedly stormed a number of media studios, literally begging for tv appearance. Her main reason, according to her, being that the media team she met on ground failed her by not presenting her on the same media raze Nyesom Wike of the FCT Ministry got upon his resumption.
To address what she interpreted as the unacceptable media blackout, her bulldozing excellency now has in place hired army of social media ranters she tagged 'Betta New Media Center' – a borrowed adaptation of Bashir Ahmad's BNMC.This eagerness to seek media attention upon assuming office reflects a lack of strategic planning and a misplaced focus on optics, rather than substance. This behavior on her part risks undermining the credibility of the administration and could inexorably lead to public disillusionment.
Characteristics of the proverbial Bull in the China's shop, Betta's hurried dismantling of the structured National Social Investment Programs showed someone with a demolishing intent – a predetermined mindset of malice coated in needless venom, perhaps to discredit her predecessor.
In so doing, she failed to take the advantage of the opportunity granted in the National Social Investment Programmes Agency Bill to expand the scope of the programmes. To her, everything recorded by her predecessor should be dismantled – a terrible mindset of weak leadership, it has to be said.
Governance as a tool of continuum, is improved upon, replicated, and never discarded. Whoever changes a programme nomenclature backed statutorily to a jejune slogan of political patronage? Of course, only those with bullish instincts! There are already talks about changing some of the names and identities of the government funded targeted interventions to Renewed Hope this, Renewed Hope that, Iyalode Funds and the like, which is akin to a brazen attempt to usurp and privatise public interventions.
Furthermore, her decision to dismantle the established National Social Investment Programmes without proper justification or continuity planning demonstrates a clear disregard for institutional memory and could eventually result in wasted resources and diminished impact on social welfare.
A confused takeoff is having technical experts drawn from the Civil Service, trained, prepared, and modelled to manage the critical programmes under the NSIP Agency replaced with untrained politicians – a move that is clearly at variance with the institutionalisation principles that informed the transfer of the programmes from the Office of the Vice President, where it all started, to the Ministry in 2019.
In retrospect, NSIPA Clusters such as the N-Power, GEEP, Home-Grown Schooling Feeding, Alternate School Programme, etc, are now under the menacing control of politicians. This constitutes a flagrant disregard for institutional memory, a slap to the law establishing the agency, and a drain in the lean coffers of government to have trained program managers replaced with politicians just for the sake of doing so, and nothing else.
The administration suffered an embarrassing reality check when the minister went to town appointing people into a World Bank Projects that had ended long ago. She appointed National Programme Managers for the defunct Community Social Development Project (CSDP) and Youth Employment and Social Support Operations (YESSO), two World Bank-funded programmes that have since rounded up and closed in June 30, 2021, and June 30, 2020, respectively, with their teams officially disbanded.
This embarrassing gaffe could easily have been averted had the minister taken briefs before embarking on that needless blunder. Her refusal to take presentations from programme officers during the scheduled presentations to her as newly appointed minister on her resumption caused the government this.
Only a Betta would go all out to brazenly tag all programmes of the Humanitarian ministry as complete failures even when she has no pint of ideas of what the programs are because she simply wouldn't listen to the scheduled presentations.
Nothing leads to growth like being equipped with the necessary information on the mission you want to embark on. Betta was too furious to unleash her fury that she opened a window of scorn for her inept grasp of realities, thereby setting up the government in sneering jeers while she is at it
Today, the government of President Bola Ahmed Tinubu is being bashed prematurely, no thanks to the juvenile gaffes of Ministers like Betta Edu. The latest is the indefinite suspension of the N-Power scheme – an intervention birthed to bridge the gap between the employed and unemployed. What is more confusing than pushing thousands into unemployment at a time hardship bites so deep on the lives of Nigerians?
Before this, was the security scare she would have caused when she flagrantly explored the possibility of communicating to N-Power beneficiaries that the Federal Government has no money and they should, therefore, not expect to receive their outstanding stipends, even though there is both an approved budget and corresponding cash backing for the payments!
The wholesale indefinite suspension of the N-Power scheme and the attempted miscommunication regarding stipend payments on her part have real-world consequences for thousands of Nigerians, potentially exacerbating unemployment and causing unnecessary distress. This reflects a lack of empathy and foresight on her part.
The situation with Betta Edu's tenure as the Minister of Humanitarian Affairs and Poverty Alleviation and her actions thus far carry significant implications for the nascent administration and its reputation. Her confused and poorly considered actions as a minister have the potential to tarnish the administration's image, waste resources, and harm the welfare of the Nigerian people, even as it is struggling to establish itself firmly on the ground for the effective discharge of the task ahead of it. Effective leadership and a determined focus on informed decision-making are crucial at this point to avoid such negative and potentially irreversible implications.