Fuel Subsidy: Reno Omokri's Wilful Ignorance  And His Penchant For Misinformation
By Bernard Okri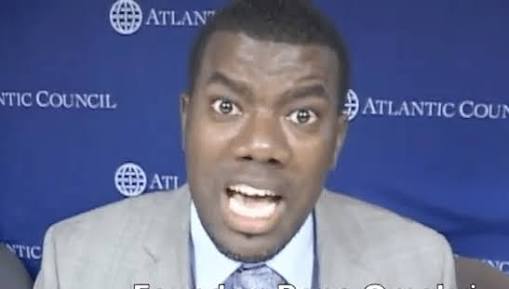 In the last of the President Goodluck Jonathan days in office, a certain Reno Omokri was ousted as Social Media/ New Media adviser and was replaced by famed media mogul Obi Asika.
Omokri had become a liability and a disaster waiting to happen to the Jonathan government. At the time of his sack, Sahara Reporters wrote this about him: "Mr. Jonathan's move is seen as an apparent maneuver to re-energize his social media image following a growing slide in his electoral fortunes as well as a series of scandals involving Mr. Omokri, who until now shaped and ran the incumbent President's campaign on social media.
The online newspaper continued, "A source at the Presidency told SaharaReporters that Mr. Omokri, who returned from California to boost President Jonathan's political campaigns in 2011, had become a huge liability and source of distraction. Mr. Omokri, who also doubles as a pastor, came to be known as "Wendell Simlin" after tech-savvy Nigerian social media activists caught him red-handed as he circulated reports on the Internet that claimed to have found a link between former Central Bank Governor, Sanusi Lamido Sanusi, and Islamist terror group Boko Haram.
"Enterprising social media sleuths discovered that the so-called reports implicating Mr. Sanusi as a sponsor of Boko Haram were first created on and disseminated from Mr. Omokri's personal computer in Abuja."
Fast forward to 8th April 2018 and you will understand why Omokri is haunted, disturbed and still not a force to reckon with despite his non-stop rant on social media and ploy to gain attention.
Since the name Reno Omokri has become associated with 'source of distraction' and 'falsehood', it came as no surprise to me when he tried to distract Nigerians by having a go at the present administration on the issue of subsidy.
Increasingly, it has become clear that when Omokri worked in the immediate past government he was never allowed anywhere near intelligence or administration matters – even the basic of information.
To enlighten Omokri, the statement by Vice President Yemi Osinbajo that the Nigerian government does not pay subsidies is perfectly true.
However there is a tweak to it: Under the subsidy regime of the Jonathan government, his boss paid oil marketers bogus amounts of monies to cover for their expenses to supply the country fuel and maintain the price at an affordable amount – this led to the enriching of a few and impoverishing of the country, as most of the oil marketers did not even make any deliveries to Nigeria but were paid billions of Naira. Some others took crude oil to Ghana and Benin Republic but where paid as well.
Under the new system which operates under the Buhari's government, oil marketers do not receive money from government. Instead, NNPC bears the cost of the differential and takes the hit on their own balances by ensuring that the price of petrol remains at N145 regardless of the fact that the landing cost has increased in such a way to make the 145 unprofitable.
In this new arrangement – which is called UNDER-RECOVERY – the Nigerian consumers benefit and not the marketers. If this is not done, the price of fuel would shoot up and the President has said he would never allow that happen.
What the government is doing to put an end to this regime, which is in itself a short term solution – is to fix our refineries including encouraging private sector involvement.
Chief Financial Officer of NNPC, Mr. Isiaka AbdulRazaq, who traced the advent of the subsidy regime to October, 2003 when NNPC was directed by government to commence the purchase of domestic crude oil at international market price without a corresponding liberalization of the regulated price of petroleum products noted that the subsidy regime has changed.
He explained that under the Jonathan subsidy regime, NNPC and other suppliers of refined petroleum products were entitled to file subsidy claims to the Petroleum Products Pricing Regulatory Agency (PPPRA).
Mr. AbdulRasaq, however, noted that unlike oil marketers, under the under-recovery regime NNPC did not receive cash payment for subsidy claims as its claims were deducted out of cost payment to the Federation Account after due certification by PPPRA.
Mr Omokri must stop making a fool of himself, and deliberately playing ignorant to misinform Nigerians. And if indeed he is as ignorant as he exudes himself, then he needs to learn that search engines still work. But he must first open himself to learning, even from those who oppose him: Reno is known to block on Twitter every person who disagrees with his views – which are mostly wrong. If he must find knowledge, he must end his hypocrisy and listen to the voice of wisdom outside his altered mindset.
That his former principal, Goodluck Jonathan, can label him a 'huge liability', what more can one expect, he is only living up to his billing.
So long Omokri!!!
Bernard Okri writes from Asaba, Delta State