Kashim: Awakening The Sleeping Giant Through Effective Food System Financing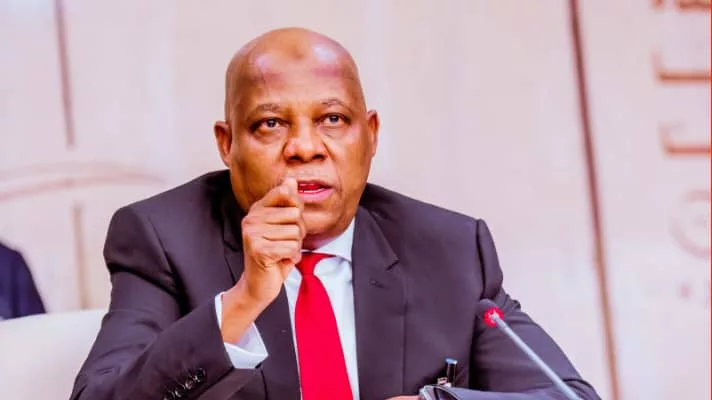 By Tahir Ibrahim Tahir
Napoleon Bonaparte once said that, China is a sleeping giant, let her sleep for when she wakes she will shake the world. President Bola Ahmed Tinubu is poised to redefine the concept of modern leadership in Nigeria, The Giant of Africa, which has woken up from its slumber and is now poised to move the world.
These are the remarks of Nigeria's Vice President Kashim Shettima GCON, while speaking at The UN World Food Systems Financing Model in Rome. Kashim waxed philosophical as he quoted Archimedes. "Give me a lever long enough and a fulcrum on which to place it, and I shall move the world." The Vice President emphasised that Nigeria needs no handouts but real partnerships. We have removed the albatrosses of fuel subsidies and multiple exchange rates from our necks, hence we are seeking investments for mutually beneficial partnerships, not handouts, The Vice President echoed.
This is the Vice President's first official trip and there is no coincidence over the fact that his first foreign assignment is about the optimisation of food systems financing. Mr. President had in the first few days of his administration, declared a state of emergency on food, to tackle rising food prices and shortages. Some of the initiatives of Mr. President include the provision of fertilisers for farmers, as well as grains. Added security measures are also to be taken, to provide extra cover for farmers, whom had been abandoning their farms, out of fear from Kidnappers, terrorists, and other similar ills.
A UN report had declared that there was a looming food insecurity crisis in Nigeria this year, projected to affect no less than 25 million citizens of the country. About 350 farmers had been kidnapped between June 2021, to June 2022, in the Northern part of the country. The Presidetial Adviser on Strategy and Communications, Mr. Dele Alake, had said that there would be new and improved security measures so that farmers can return to their farms without any fear. All issues regarding food and water have now become the responsibility of the National Security Council directly, headed by Mr. President, with the Security Chiefs as members.
As a follow up to the food declaration, after a meeting with stakeholders on agriculture and food production value-chain, Mr. President ordered for the release of grains to 50 million farmers and households. He also asked that the Ministries of Agric and Water Resources have good synergy between them, to ensure adequate supply of water to farmlands all year round, in an effort to sustain an all year round farming system. The water basin authorities have been engaged to provide irrigation for the farms. A National Commodity Board that will continously review food prices as well as maintain a national food reserve which would be used as a stabilisation mechanism to moderate sharp food price fluctuations. Land banks would also be activated, as about 500, 000 hectares have already been mapped out for them. The CBN will also continue to fund The Agricultural Value Chain. The Federal Government is fully intent on achieving food security with both short term and long term initiatives.
The Vice President who heads the National Economic Council is by training an Agricultural Economist, and has a BSc. in Agricultural Economics from The University of Maiduguri, 1989, and an MSc. in the same course, from The University of Ibadan, 1991. He then joined the University of Maiduguri, Agricultural Economics department as a Lecturer and was in the academia till 1993, before moving to the banking sector in 1993. He worked with the Commercial Bank for Africa Limited, as an Agricultural Economist at their Ikeja office in Lagos. So Sen. Kashim Shettima is thoroughly groomed and experienced in the field of agriculture.
During his tenure as Borno State Governor, he launched a massive agricultural programme in 2015, investing over 30 billion naira. This was as a result of the successes achieved by the military in their war against Boko Haram. The programme deployed high technology and new farming methods. The programme involved the mechanisation of food production farming and agricultural empowerment programmes. The Borno Agricultural Transformation programme developed a Farming Centre, where thousands of youths were trained in modern and mechanised farming, for maximum food production. They focused on Green House, Seedling Processing Plant, Sprinkler Irrigation Systems and Mechanised Farming Implements like Tractors and Harvesters.
Therefore the Kanuri man has the opportunity to utilise his vast experience which was successfully deployed in Borno, despite the challenges of insurgency. Nigeria's huge arable land is still a virgin, to be taken by a fierce agronomist, who can turn around the fortunes of the country in as little as a year or two. Land investment has the most guaranteed type of yield, be it in estate, mining or agriculture. The world should take seriously, the VP's declaration in Rome.
Nigeria is projected to be one of the world's economic super powers, if it gets it right. It is billed to be among the top 20 super economies of the world. Agricultural investment and development is the way to go, as emphasised by Nigeria's eloquent Vice President, Sen. Kashim Shettima. Kashim is poised to deliver on this project, as mandated by Mr. President.
Tahir Ibrahim Tahir is Talban Bauchi.