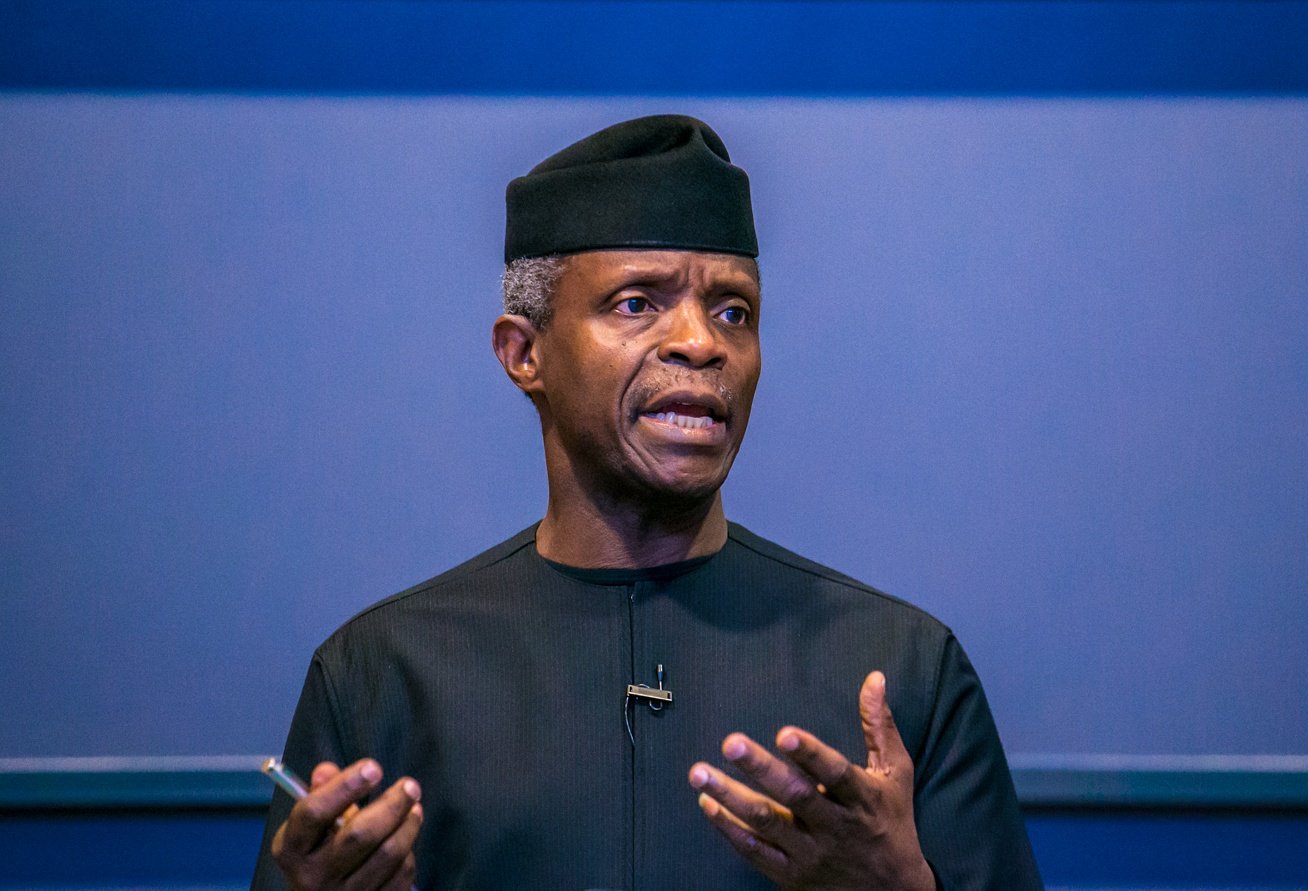 Osinbajo in Benue: Beyond politics, 2019 elections by Nathaniel C. Adoji
On 16 May 2018, Vice President Yemi Osinbajo set out to work like any other day, only that, this time he was headed to Benue on a two-day visit which includes many stops at Internally Displaced Persons, (IDP) camps.
To the VP he was just doing his job, what he was elected to do but for some reasons many Nigerians saw how Osinbajo interacted with IDPs, taught them a song and even shook hands with them, as more than him doing his job. They connected with the gesture, the humility, the sense of belonging and this triggered something, a social media trend.
Nigerians lauded the efforts put in by the Buhari government to ensure that the leadership is not far from the grassroot and that the security of lives and property mattered.
But not everyone was happy that Nigeria was united, not everyone was happy that there was peace in Benue, not everyone was happy that N10 billion was put down to restore attacked communities and villages and before long, like Beauty and the Beast, they showed their frustration at how Nigerians were happy at the government.
A day after Osinbajo's visit, PDP released a statement signed by one Engr Emmanuel Agbo describing the visit as a political attempt at window dressing the "already-damaged" image of President Muhammadu Buhari in the state.
PDP added that, Osinbajo did not visit the people of Benue when two priests and seventeen parishioners were killed, neither does he agree that the herdsmen who killed 73 Christians in the state are terrorists. But instead of the statement to ruffle feathers, it only showed that the party was suffering from acute delusion.
Let me refresh the memories of Nigerians. On 2 August 2015, months after Buhari and Osinbajo was sworn in, the VP visited Kano. To be precise, hevisited the Mariri IDP camp school in Kano state. The school was set up to provide quality education for children who lost their parents/guardians in various Boko Haram attacks. The school runs with a full curriculum as other schools.
A month before this, he had visted the IDP camps in Adamawa and Borno. On 1 July he visited an IDP camp in Borno and a day after he was in Yola, Adamawa state to visit more IDP camps. While there he visited victims in the NYSC orientation camp and at the federal medical centre in Yola..
He also went with a message, "Everyday, the President is thinking about you. That is why he sent me to come and see, take notes to understand what is going on, to hear from you, so that I can report to him for positive actions. That is why I am here."
In June 2017, then acting President, Osinbajo visited Maiduguri, capital of Borno State, a day after Boko Haram killed at least 10 and injured more than 40 in Jiddari Polo area of the state capital. The attack occurred while soldiers were battling to repel an initial onslaught by insurgents trying to invade the city via the southern flank.
But Osinbajo has done more than just visit. Last year, the Presidency received 18 children who emerged champions of an education competition in the various IDP camps in three Northeastern states.
The children emerged from 3,397 entries in Borno, Adamawa and Yobe. At a reception in Osinbajo's office the children demonstrated their skills in fine arts and essay writing.
Osinbajo lauded the children and urged them not to despair as the federal government would ensure that they attained their academic goals without interruption. He said the government would fine tune the competition and expand the scope to find other creative ways of providing mentorship for other children.
But of course, PDP will not remember any of these visits, because they are only about peddling hate, lies and division. They will rather see Nigeria burn than live in peace and in one love. The statement by Agbo, an unknown entity showed the direction PDP is headed. "Let Osinbajo and his boss eat their N10 billion. The life of one Benue citizen is worth more than the Federal Government's blood money. Let it be on record that people of Benue will not be deceived by those who impoverished our people and watched us bury our sons and daughters while they gave nothing but excuses."
That Agbo thinks that the money of the federal government belongs to two people or a political party shows his level of understanding. I also wonder what kind of engineer he is. And it also makes one wonder if Agbo and his party listened to the speech of Osinbajo while he was in Benue.   
That Osinbajo demonstrated genuine concerns, genuine compassion and genuine humility only shows that these acts will resonate beyond the 2019 elections and be a precedence of true leadership in this country.
Written by Nathaniel C. Adoji