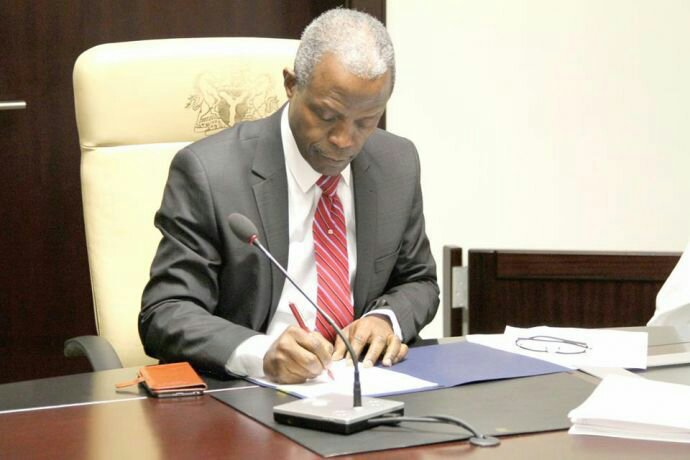 While few critics tend to shy away from the sterling performance of the Vice President, Professor Yemi Osinbajo, but rather concentrate on concocting all manner of stories and innuendos on his person, I have chosen to take an alternative route. Before I start, let me admit that occupying a high office anywhere in the world is not a tea party. It is a herculean task. Professor Yemi Osinbajo shares a lot of values with President Muhammadu Buhari, and principally among them is their legendary integrity, patriotism and commitment to national development.
Let me use this medium to address some of the mundane issues raised in the article written by Shaka Momodu, titled Osinbajo Unlike The Biblical Daniel, published on the Thisday Newspaper. That Vice president Yemi Osinbajo wants to be seen as a hero, I beg to say that this is a misrepresentation of his persona as he is always himself and not a pretender. To say that he was eager to impress his principal attests to his unalloyed loyalty to Mr. President, and the philosophy of the administration, which is to render service to Nigerians.
Granted that Professor Osinbajo is ''not tough'' in the sense the writer implied, yet his belief in the rule of law, rather than brigandage remains unwavering, especially in matters of state. He cannot therefore on this account be seen as a ''spineless professor''.
It is also wrong to make sweeping statements by linking the administration to any malfeasance, as the government has never hesitated to act if there is a grain of evidence against its officials. Professor Osinbajo still remains a professional with a world view to improve the lot of Nigerians.
On the allusion to his visits to the airports, markets and filling stations I want say that this is desirable as it shows a connection between the government and the people. There is no hypocrisy or self-righteousness in Professor Osinbajo as he is always himself. As a leader he owes it a duty to connect and feel the pulse of the people, as this is standard practice all over the world. It should not be misconstrued.
 For the avoidance of doubt, most cabinet members hold the vice president in very high esteem and they repose a lot of confidence in him, especially when he stands in for Mr. President. Let me observe that most of the negative comments in the article are mere conjectures deliberately adumbrated to achieve a premeditated objective. They don't reflect the position of the president, his vice or the entire administration about some happenings in Nigeria.
Though I disagree that the image of Professor Osinbajo's party, APC is ''sagging'' as the writer tried to impute, but I ask: what is wrong if a vice president shores up the image of his party with public appearances? To me this is pedestrian argument.
Till today, many Nigerians still appreciate Professor Yemi Osinbajo for his contributions to the Buhari administration as he has not failed at any time to make his wealth of knowledge available towards steering the ship of state. For example during President Muhammadu Buhari's three months absence in London, Professor Osinbajo held forth and was able to assuage the feelings of the Niger Delta agitators who had threatened to bring down our oil production to zero. It can only be imagined the state of affairs in Nigeria if he had not acted as a go-between with the Niger Delta militants.
Professor Yemi Osinbajo has used his position as the chairman of the National Economic Council to proffer solutions to some problems that would have been intractable. Even in the case of the farmers/herders clashes, his leadership has resolved on the issue of ranching which ab-initio was the preferred option for the grazing herdsmen? It is only a blind man or someone prejudiced by bias that will not see the ''Daniel role'' Professor Osinbajo is playing in Nigeria today.
He remains a towering example of a conscientious leader, consummate gentleman and preacher of the gospel. His participation in government has not in any way lowered his esteem in the eyes of right –thinking people as he has been taken things in his stride, observing a high level of sobriety and being loyal to the president and the country.
Or what more can you ask of a man who has denied himself pleasure and comfort to serve his country and help navigate the ship of state to a secure corner where all interests will be catered for? Luckily, he is in good company with his principal, President Muhammadu Buhari who continues to ensure that Nigerians reap bountifully from the hope they reposed in them.
Professor Yemi Osinbajo is still standing tall among eminent men and women in Nigeria if we consider that he has used his position to address the plight of the Nigerian youth who are the leaders of tomorrow. For example, the impact of the N-power programme; School Feeding Programme; Conditional Cash Transfer programme and several other social intervention programmes which he has directly midwifed in this administration are visible for all to see.
As things stand today, President Muhammadu Buhari and his Vice Yemi Osinbajo are the most popular and charismatic politicians in Nigeria today. This did not happen by accident as the duo had through their sincerity of purpose and determination to improve the lot of the ordinary Nigerian have earned the trust and confidence of Nigerians irrespective of tribe and religion. This is the difference between the duo and the past PDP administrations. While the past PDP administrations focussed on serving some vested narrow interests, the Buhari/Osinbajo administration has made Nigerians the fulcrum of their development agenda.
On the issue of corruption, why would any right thinking person begrudge Professor Osinbajo who revealed that despite 60% less in revenue compared to the accruals for the previous government, that the administration has spent the highest capital expenditure on infrastructure in Nigeria's history with about N1.3 trillion. It is needless to say that good infrastructure is key to the total revival of the economy, job creation and economic emancipation of Nigerians.
Based on the visionary leadership of President Buhari and Vice President Yemi Osinbajo, the capacity of the Transmission Company of Nigeria to transport energy has grown from 5000MW in 2015 to 7,125 MW in 2017 thereby making more power available to Nigerians. This is evidence of a focussed government.
How can anyone in his right senses deride an administration that has deployed about N16.67 Billion to each of the six geo-political zones out of the N100 Billion Sukuk fund to fix our dilapidated road network? The difference between the PDP era and the Buhari/Osinbajo era is the absence of corruption and introduction of transparency in governance.
The Buhari/Osinbajo administration is also building two legacy projects which the previous PDP administrations shied away from for sixteen years. They are the Mambilla power project and the Second Niger Bridge. It takes courage and commitment to embark on this kind of projects in austere times as we have today.
Even on the issue of security, the Buhari/Osinbajo administration has ensured the release of 106 Chibok girls from Boko Haram captivity, while the fire power of the military has greatly degraded the ability of the terrorists to conquer and occupy territories.
President Osinbajo's humble mien can easily mislead some people to adjudge him as weak, but far from it as Professor Osinbajo carries himself with dignity and within the confines of his constitutional responsibilities. His luck is also that the president reposes confidence in him and periodically entrusts him with the responsibilities of his high office. On his part Professor Osinbajo has always lived up to the billing.
 For example, during such occasions when the president must travel outside the country, he usually writes the National Assembly to officially transmit power to him, and on several occasions Professor Yemi Osinbajo has presided over the federal executive council and they usually came out with useful resolutions for Nigeria. In my estimation and many Nigerians Professor Osinbajo remains a role model and his association with President Buhari is refocussing Nigeria and laying a solid foundation for sustainable development.
By Chukwudi Enekwechi
An Abuja-based Journalist