Femi Fani-Kayode a hallucinating author of Fake News, APC Chieftain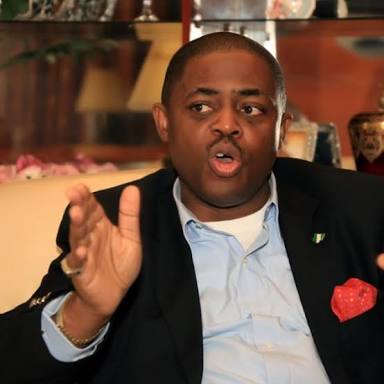 A chieftain of the All Progressives Congress, APC, Abubakar Sidiq Usman, has described former aviation minister, Femi Fani-Kayode as the author of fake news, after the failed politician slandered Nigeria's Vice President Yemi Osinbajo.
Usman noted that on 26 October 2018 at the Jubilee Hall, National Christian Centre in Abuja, Fani-Kayode attempted to soil the VP with unfounded claims.
"It is important to note that Fani-Kayode, a serial liar who thrives in peddling falsehood and fake news against very respectable people like the Vice President has made several attempts to malign the name of the Vice President at every opportunity presented to him," Usman said in an preempt statement with journalists in Abuja.
He added that, Nigerians will recall that on 27 February 2015, Fani-Kayode began his campaign of calumny against the person of the Vice President by cooking up stories out of his hallucination. He even once claimed that Vice President had sworn an oath with former Lagos governor, Asiwaju Bola Tinubu.
"Senator Tinubu, according to our information, has compelled Professor Osinbajo to swear to an oath that after six months in office, he would resign as the vice president, in the unlikely event that their party wins.
"The wicked plot, as laid out by them, is to force Professor Osinbajo to resign for Senator Tinubu to be nominated by General Buhari as his replacement," Mr. Fani Kayode concocted at a press conference in Abuja.
Mr Usman then recounted another false news by Mr Fani-Kayode. On 13 July 2017, he claimed that the British government had sent former Prime Minister Tony Blair to perfect plans of how Vice President Yemi Osinbajo will succeed President Muhammadu Buhari when he dies and how Governor Nasir El-Rufai will be picked as Vice President.
"When Buhari is declared dead the plan is for Osinbajo to appoint Nasir El Rufai as his VP. Tony Blair has come to Kaduna to convey British approval of that plan. El Rufai is slotted to take over from Osinbajo in 2019 but God will shock them. When will the Brits leave us alone?" Fani-Kayode concocted again.
The APC chieftain then highlighted yet another fake news by Mr Fani-Kayode. On 4 July 2017, Fani-Kayode claimed that some persons were out to stop the Vice President from restructuring Nigeria like they stopped Pa Obafemi Awolowo and Chief M.K.O. Abiola.
"They stopped Awo and MKO Abiola. Now they plan to stop Osinbajo and say no to restructuring. Enough! TB Joshua please pray for Oduduwa Republic," Fani-Kayode wrote on his Twitter account.
Mr Usman explained that, "The sickening and outlandish claims of Fani-Kayode has been well documented over years. Him and others like him have thrown everything imaginable at Vice President Osinbajo, but he has continued to wax stronger and stronger.
He added that, "The VP is a man of international repute and a man of integrity. He is a Christian and a pastor but will remain the Vice President of all Nigerians irrespective of religion, ethnicity or race.
"To ask the Vice President to speak for Christians alone, is to divide Nigeria along ethnic lines and the Vice President do not stand for that. He widely spoke of his belief and stands by it," Mr Usman said.