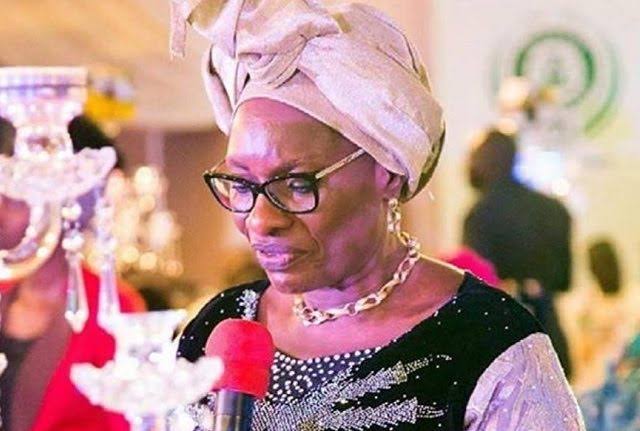 WHY PLATEAU STATE SHOULD SUPPORT PRESIDENT MUHAMMADU BUHARI
By Dame Pauline Tallen OFR
The presidential primaries of all political parties have come and gone with the ruling party, the All Progressives Congress (APC), featuring President Muhammadu Buhari as its presidential candidate, while the leading opposition party, the Peoples Democratic Party (PDP), has presented Alhaji Abubakar Atiku.
As a mother and a stakeholder in Plateau State, I am calling on the good people of Plateau State to rally round President Muhammadu Buhari and give him our votes at the polls to reciprocate his good gestures to the state.
We should not allow merchants of political deception to brainwash us into believing fabricated lies that President Buhari hates Plateau and he is sponsoring Fulani herdsmen for attacks on communities or trying to Islamize Nigeria.
It is on record that in 1984 when Buhari was the Head of the Military Junta, and when Nigeria had 19 states, he appointed two governors from Plateau State which was a rear privilege. They were Navy Captain Samuel Bitrus Atukum of Plateau State and Brigadier Jeremiah Useni of Bendel State. If Buhari out of 19 governors will select two from Plateau, it shows he has a good will for the state.
Coming on board as a civilian president, Plateau State has benefitted from his government above the previous administrations.
We can see clearly that under the immediate past regime, Plateau State had the Minister of Water Resources, Mrs. Sarah Ochekpe, and then governor Jonah David Jang, was a strong ally of then President Goodluck Ebele Jonathan, but the regional water plant in Mangu was not taken into cognizance for completion, until President Muhammadu Buhari came on board and reviewed the contract upwardly from N855m – N977m for speedy completion. The same Buhari administration has awarded the contract of Baban Lamba – Sharam Road at N19.2bn, in Kanke Local Government Area, 54km road from Plateau to Bauchi and back to Plateau which is Pankshin-Tapshin – Gambar – Sara – Kal – Gindiri at the cost of N15bn.
The Buhari administration also approved N348.5bn for the expansion of Akwanga – Jos – Bauchi – Gombe Road.
So many Plateau Youths have secured employment with N-Power which is greatly helping them.
The same administration has given five Chairmen of Federal Boards appointments to illustrious sons and daughters of Plateau and 25 Federal Government board members.
On the issue of insecurity, we had not less than 7 Boko Haram Bomblasts from 2010- 2015, but since Buhari came on board and decimated the insurgents we never had any till date.
Our father, patriot and elder statesman General Yakubu has testified that President Buhari has no hand in the herders attacks on communities as being perpetrated from some quarters. These attacks by the Fulani did not start under the Buhari administration as attested by Jonah David Jang's interview with The Messenger April 2003 saying, "I don't know who is training Fulanis in the bush. These are people whom we have lived here for so many years. Today they are militias. They can shoot guns. They have sophisticated guns, killing and burning villages."
Since November 2008, we had several attacks on communities in Plateau State and most of them had their owners sacked. It was in one of the attacks in 2012 that Honourables Gyang Fulani, then member representing Barkin Ladi constituency in Plateau State House of Assembly and Gyang Dantong Senator representing Plateau North Senatorial District in the National Assembly lost their lives.
It was the horror of the attacks that Jang once said he did not know why God made him a governor of Plateau to always wake up to hear that his people are being killed on daily basis.
What prompted the agitation for a state police and creation of the Operation Rainbow by the Jang Administration? Insecurity of course.
Buhari inherited these clashes and attacks that have been here with us for fourteen years and he is tirelessly working round the clock to bring them to an end.
Governance is continuum, if the previous administration had judiciously utilized the $2bn meant for the purchase of arms to tackle insecurity, its burden on Buhari administration would have been much less. But it has been allowed to metamorphosed into a multi headed hydra. It is easier to destroy than to repair especially in the area of insecurity where it has a lot of beneficiaries.
The boosting of the Military and Police personnel morale by the Buhari administration and their being equipped with sophisticated equipment have depicted the President's high commitment to finding lasting solution to all security threats.
Buhari's attempt to stop the herders/fulani clashes was politicized when he talked of cattle ranching, where some people interpreted it as a means of taking over indigenes' land to give it to the Fulani. Despite frustrating his efforts coupled with massive criticisms, president Buhari is relentlessly making efforts to end attacks on communities and farmers/herders clashes.
Finally the Buhari led administration has promised to refund the funds spent on construction of the Secretariat Junction Overhead Bridge and the dual carriage from Mararaban Jama'a to Secretariat Junction. And also promised to support the state with N10bn To help the state return the refugees to their homes after the June 23 attacks.
One good turn deserves another, we should not be carried by emotions but judge righteously and support President Muhammadu Buhari for progress and more dividends of democracy!