Buhari Inducts Nigeria's first indigenously developed Unmanned Aerial Vehicle in Kaduna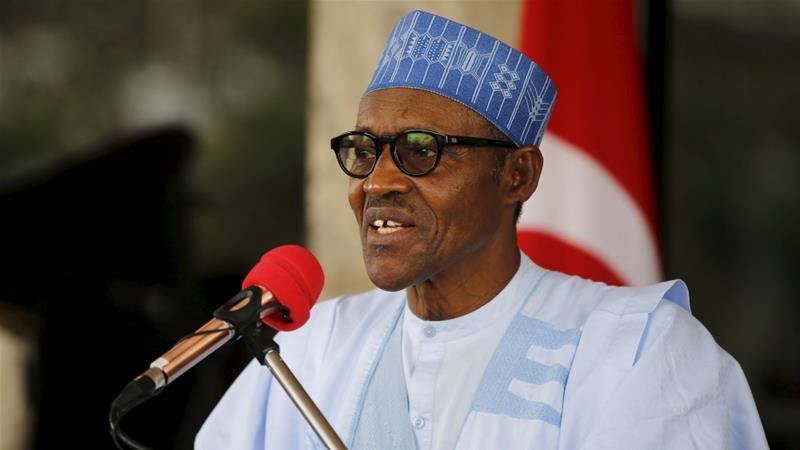 REMARKS BY HIS EXCELLENCY, MUHAMMADU BUHARI, PRESIDENT OF THE FEDERAL REPUBLIC OF NIGERIA, AT THE INDUCTION OF THE TSAIGUMI, UNMANNED AERIAL VEHICLE, THURSDAY 15 FEBRUARY, 2018, KADUNA.
    It is a pleasure to be here with you all for the induction of the Nigerian Air Force Unmanned Aerial Vehicle, 'TSAIGUMI', Nigeria's first indigenously developed Unmanned Aerial Vehicle. The significance of this accomplishment as a milestone of national technological development cannot be over-estimated. In this regard, I must commend the efforts of the current leadership of the Nigerian Air Force, notably the Chief of Air Staff who is performing his assignments wonderfully well.
  As you are aware, the world is witnessing an ever increasing surge in the employment of Unmanned Aerial Vehicles in military operations. This is because while standard air weapons such as missiles, fighters and bombers work against well-defined targets like conventional enemy forces or installations, they are not as useful in today's complex wars that are fought against adversaries who are often hidden amongst innocent populations or in locations similarly sensitive or difficult to strike by normal conventional means.
  Unmanned Aerial Vehicle can loiter and maintain an ''unblinking stare'' over a chosen area for hours. Thanks to the ability to ''watch and wait'', its operator, often miles away, can provide a continuous stream of vital information on enemy activities and if the platform is weaponised, it patiently chooses the best moment to engage.
  Thus the employment of Unmanned Aerial Vehicle capabilities for Intelligence, Surveillance and Reconnaissance and where possible, strike operations significantly increases the chances of success while minimising unwanted collateral damage.
   Government remains determined, despite numerous challenges to bring about the much-needed CHANGE that will lift our beloved nation to its rightful place as a major economic and political force on the world stage.
  Part of our drive to achieve this goal is to enable enterprise and the improvement of the quality of life through massive improvement of national infrastructure. Accordingly, as I outlined in my New Year Day broadcast to the nation, this Administration has designed series of key projects to dramatically overhaul national infrastructure and overcome the deficit in that vital area.
   The role of the military as an enabler of national development cannot be overemphasized, as efforts would be futile if national security is not first guaranteed. In this regard, let me once more commend the gallant men and women of the Nigerian Armed Forces and other security agencies, for their tireless efforts towards defeating Boko Haram and all other threats to our nation's security, thus ensuring that the government can proceed with its developmental activity without hindrance.
  Let me again commend the Nigerian Air Force leadership for the unprecedented feat it has attained on Research and Development. I am aware that the Air Force was the overall best in the recently concluded 2017 National Technology and Innovation Exposition under Research Institute category.
  Accordingly, its drive, determination and unwavering support brought about numerous significant innovations, not least of which is the TSAIGUMI which I am inducting today. It is indeed most gratifying that the Nigerian Air Force has gone a step further than simply acquiring them, to developing Unmanned Aerial Vehicle capabilities with indigenous technology. This outstanding accomplishment, which we are gathered today, holds promise of both military and economic benefit to the nation.
                      From the military perspective, the added capacity for Intelligence, Surveillance and Reconnaissance provided by the TSAIGUMI will boost ongoing and future security operations. As this project moves into the next stage, which is mass production, it would create employment and possibly generate revenue as Nigeria's first military export product.
The attainment of this technological feat is an indication that there is indeed potential to similarly apply the same innovative mindset to addressing other areas of indigenous technological need. While I commend the Nigerian Air Force for this accomplishment, I enjoin you not to rest on this achievement but to strive harder in your Research and Development efforts for greater innovation. Be assured of this administration's support towards the attainment of greater technological milestones for our nation.
Distinguished guests, in closing my remarks, let me again reiterate our commitment and firm resolve to take this Nation to the next level. We remain determined to overcome all challenges to our security and development as a nation. I enjoin all well-meaning Nigerians to join hands with us to make our collective dreams of greatness a reality.
I thank you all and may God bless Nigeria.