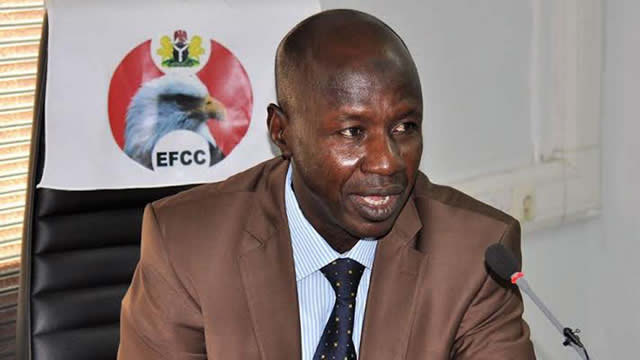 The Economic and Financial Crimes Commission (EFCC) and the Independent Corrupt Practices and Other Related Offences Commission (ICPC) have been commended on the recent discoveries of shady activities in the power sector where over 50 persons have so far been interrogated over an alleged $9billion power project scandal.
The investigation, according to the Buhari Media Organisation (BMO), is long overdue because the power sector plays a huge role in the economic transformation process.
In a statement signed by its Chaiman Niyi Akinsiju and Secretary Cassidy Maduake, BMO said President Buhari's anti-graft war is a war against all forms of corruption, and should be supported by all Nigerians.
"It is an opportunity for the anti-graft agencies to show that former heads of state and other high-ranking public officials are not protected from investigation and prosecution for allegations of grand corruption in Nigeria."
This is also in line with President Buhari's determination to remain resolute and focussed on delivering on the promises of securing the lives and properties of Nigerians, and halting the pillage of the economy by corrupt public officials.
"The huge amount of money taken by contractors without delivering on the jobs has almost grinded our industrial progress and stagnated our economy."
According to the Buhari group, lack of access to electricity hampers both economic and social development. It affects everything, from people's ability to learn, to the creation of enterprises and the provision of public services. The need for electricity is paramount for any country.
"Lack of electricity locks people in poverty while access to electricity is key to any country's development, improvement in security, food production, and strengthening economies. Increased access to electricity improves education, entertainment, health, comfort, protection, and productivity.
"We urge Nigerians to support and campaign heavily for the fight against graft in order to avoid further criminal breach of contracts by contractors and public servants in the future so as to enable us benefit as a nation," the statement added.