APC National Convention 2018: We are Moving Nigeria Forward – Fashola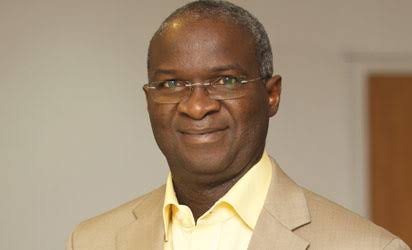 Hon. Minister of Power, Works & Housing, Mr Babatunde Fashola SAN is the Chairman of the Transport & Logistics Sub-Committee of the All Progressives Congress' National Convention Committee 2018. In this short interview monitored on NTA's Network News, the Hon. Minister speaks on preparations for the National Convention of the APC and the key message to Nigerians from there.
Excerpts:
Q: About 7,000 Delegates for Saturday's Convention of the APC, quite a number isn't it ?
A: Yes, and I think that if you appreciate that they are only Delegates, they are not the full number of members of the party. We've done a lot of training in order to ensure that there is convenience and comfort. Conventions are very exciting times for party members. It affords the opportunity to travel from different places to meet old friends and Saturday's convention will be no less exciting and it will afford us an opportunity to again do something new. They also set the platform ready for the beginning of campaigns and messaging.
Q: Are you saying that the numbers might just increase subsequently?
A: Well, you can't keep members away. There are processes in place for accreditation, for admission and related issues which had been announced by members of the Convention Planning Committee for Transportation and Logistics, and all of that. But, party members being party members, Conventions are very exciting events, they'll want to be there. Candidates are also going to be sending their messages, their banners. So we expect it to be no less a carnival affair than what we had in Lagos four years ago.
Q: That brings me to my next question: What has the Convention Committee put in place to ensure free movement and security of the Delegates?
A: Well, I can tell you for example that announcements have been made for Delegates coming outside of Abuja to arrive and head to the National Stadium. Arrangements have been made to Bus them from there to the Convention Centre at Eagle Square. Delegates moving from within Abuja have been advised to go to the Old Parade Ground. Again, arrangements have been made to Bus them from there and Delegates will be admitted based on their admission cards, tags, and identification cards that have been issued and are still being distributed I believe. Also, for residents within Abuja who are not party members, arrangements have been made. Announcements have been made for diversion of traffic so that we don't inconvenience them. They can get on with their lives and this is also about them. Arrangements have been made by the Minister of the Federal Capital Territory, who is in charge of transport, and his Team , about the diversions, places that will be closed and the routes that will be available for Commuters to get on with their lives without being inconvenienced.
Q: Hon. Minister, this is actually not an elective Convention so explain to me in basic terms, what would these Delegates do?
A: It is part of the process of producing the Presidential Flag bearer of the party, so this is the A.G.M. of the party if we liken it to a Company. Actually, it's where the members affirm decisions and all of that. And one of the decisions that will be affirmed is that of the Presidential Flag bearer of the party although there is no other Candidate running against him but that will still be part of the events that signals, as I said, the beginning of full blown messaging and campaigning when we will be taking our message of moving Nigeria forward to the Nigerian people, running on our record and achievements over the last three years.
Q: You spoke about message. I'm sure there's a whole lot of messages to put across to Nigerians so what should Nigerians expect from the convention and beyond?
A: As I said, the emergence of a presidential Flag bearer for our party though he is known, there are processes to complete that…
Q: What is the central message?
A: The central message is that we are moving Nigeria forward. We are getting on with our work. We are consolidating on what we have achieved over the last three years. We are intensifying and entrenching change. One of the things that you'll probably recall is that this was the party that was never going to be formed. They said a merger will never happen, it has never happened in the history of Nigeria, a merger happened. They said at our first convention, the party will implode the party didn't implode, we elected our officers. They said our Presidential convention will break up the party, a Presidential mandate winner emerged and for the first time all his opponents rallied behind him and conceded. It was the first of its type in modern day democracy in Nigeria. They said the candidate will not win, the candidate won. They said the incumbent will not hand over, the incumbent handed over. And these are the things that changed in this country and there will be more of it because we must keep moving forward against the odds