EXPOSED: Amosun's desperate last minute moves to rig Ogun election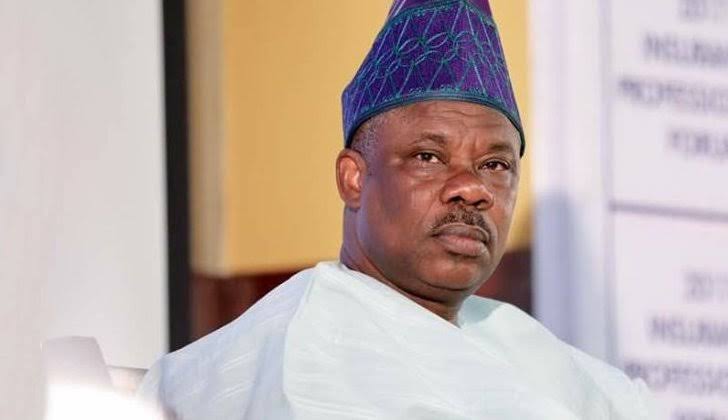 • Deploys ex-commissioner to manipulate election results
• Offers INEC officials N2 million to rig election
• Soldiers, thugs paid to inflate results in Ifo, Abeokuta North, others
• Issues death threat to NYSC members and other INEC officials
The devious plans of Governor Ibikunle Amosun of Ogun State to manipulate and possibly disrupt the governorship and State House of Assembly elections held on Saturday have been uncovered.
According to our reporter, the governor who is backing Allied Peoples Movement (APM) candidate, Honourable Adekunle Akinlade has deployed soldiers and thugs to inflate election results in Ifo, Abeokuta North and other local government areas.
The governor has also threatened the officials of the Independent National Electoral Commission (INEC) and NYSC members with thugs if they refuse to allow them access to thumb print ballot papers.
According to an INEC official in Yewa North representatives of the governor offered them N2 million to manipulate the results of Ohunbe ward.
The official said when they rejected the offer, the representative told them that they were joking with their lives and had no other option.
"We left the ballot papers for them to do what they wanted, I cannot lose my life over this election, I have a family that is waiting for me to return home," said the INEC official who spoke to journalists on the condition anonymity.
At the collation center at NUD Oke Ijeun INEC officials were attacked by thugs who were wearing APM shirts. The attack took place at Ward 8 on Saturday evening.
APM thugs were also reported to have been shooting at Ward 12, Abeokuta South Local Government Area forcing residents to scamper for their lives.
Our correspondent gathered that soldiers were being used to perpetrate electoral anomalies in at least 20 other polling unit and collation centers.
"They were tampering with APC votes and are inflating the figures of APM," an APC party agent who identified himself as Segun told reporters.
"The soldiers and policemen deployed to do these things were dressed in mufti, so we could not ascertain their true status," said Segun.
Former Commissioner for Special Duties, Barrister Leke Adewolu also mobilised thugs to alter results at Ifo State Constituency 1 and 2.
Another INEC official said at Ward 11, Abeokuta North soldiers dressed in military fatigue ordered party agents out of the ward before forcing them to manipulate results.
Our correspondent reports that in Ward 5, Abeokuta North, the governor and his boys did over voting. "They were so eager to thumb print in favour of APM that the votes allocated to APM was more than the accredited voters," an INEC official told our correspondent.
Other polling units were results are believed to have been manipulated includes Unity high school, Ago Ika – Abeokuta North LG; Centenary Hall, Ake – Abeokuta South South LG; Odeda Council Hall – Odeda LG; LG Secretariat Hall – Obafemi Owode LG; LG Secratariat Hall – Ifo LG; LG Secratariat Hall – Ewekoro LG; LG Secretariat Hall – Ijebu North LG; Town hall, Ogbere – Ijebu East LG; LG Secretariat hall, Abigi – Ogun Waterside LG; Itoro hall – Ijebu Ode LG; LG Secretariat Hall – Odogbolu LG; LG Secretariat hall, Atan – Ijebu North East LG; Muslim high school – Sagamu LG; Town hall – Ikenne LG; LG Secretariat hall, Isara – Remo North LG; LG Secretariat hall – Imeko Afon LG; Omidokun hall – Yewa North LG; LG Secretariat hall – Ipokia LG; Oronna town hall – Yewa South LG and Iganmode Grammar School – Ado Odo Ota LG.