We Will Ensure those Affected are Resettled Quickly, and Livelihoods Restored in Affected Areas – FG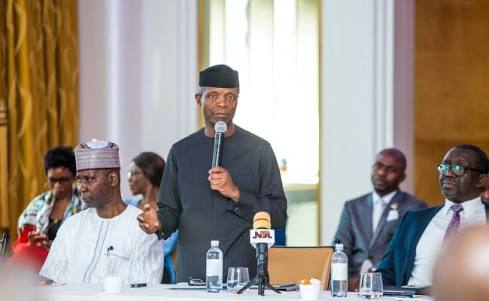 Having declared the recent flooding of communities in parts of the country as a national disaster, the Federal Government will deploy more resources to mitigate sufferings of people in the affected areas, according to Vice President Yemi Osinbajo, SAN.
While commending the National Emergency Management Agency, NEMA and the state emergency management authorities for its quick responses, Prof Osinbajo also said the Federal Government would work together with the state and local governments to ensure that people in the affected communities are resettled so that they can get back to normal lives.
The Vice President gave this assurance during his visits to Anambra and Delta states on Thursday to inspect communities in the states that were affected by the severe flooding that has ravaged several states in the country.
He assured the people affected in the states he visited that the Buhari administration will do everything possible to bring relief and restoration to all who have suffered on account of this flood disaster.
Prof. Osinbajo visits to the affected states is on behalf of President Muhammadu Buhari, and it comes a day after he also visited Zungeru Primary School in Niger State, where persons displaced by the flooding resulting from the construction of the dam were being camped.
The Vice President also directed NEMA to immediately supply materials needed for the building of the permanent resettlement site for the communities affected by the construction of the 700MW Zungeru Hydro Power Project in the State.
He said, "President Muhammadu Buhari asked me to come and see to your welfare. We will also do our best to help everybody so that you can resettle well. We are paying attention to everything that is going on here. And we will make sure that we do everything necessary to make you as comfortable as possible and to resettle you as quick as possible.
"Already, I've asked NEMA to supply immediately some relief materials to start some construction and the resettlement site. We have a new resettlement site, which as you know, has been in the works. We are going to continue construction and put a few structures there so that those who are here can move away from the school.
"We will also do our best to help everybody so that you can resettle well. Nobody wants to be in any trouble like this. You are hard working people, doing your work in your farms or trade. We want you to be able to go back and continue your work and your life."
On the directive of President Buhari, the National Emergency Management Authority (NEMA) had on Monday declared flooding a national disaster in four states – Kogi, Niger, Delta and Anambra. "This underscores the enormity of the disaster here and what needs to be done. There is a lot of work that needs to be done not just by way of providing temporary relief and succour which is being done in IDP camps," Prof. Osinbajo said.
Speaking earlier in Otuocha LGA in Anambra State while interacting with some leaders of communities affected by flooding in the state, and having flown over the affected communities to see the extent of damage, the Vice President said, "I am here to see for myself and to be in a position to brief Mr President about the extent of the disaster. As you know the disaster here and in several other states has resulted in the situation where the Federal Government has ordered that the situation be declared a national disaster."
According to Prof. Osinbajo, "It is an unprecedented act for the President to so declare especially because there are certain things that need to be done as quickly and as efficiently as possible."
He said: "I have overflown many of the disaster areas on my way here and we recognized that Ayamelu, Onitsha South and North, Anambra East and West, are experiencing varying degrees of flooding and many are already under water, and tragically also farmlands, especially at a time when we are ramping up rice production. I overflew the Coscharis farm and it is practically under water.
"This is really a disaster of immense proportion and we intend as a Federal Government, to deploy federal resources as much as possible to assuage some of the challenges that have been caused by this disaster."
He added that "as an interim measure, NEMA has already sent allocation of food and relief materials to several areas."
Prof. Osinbajo however advised families that are reluctant to relocate from their flooded homes to move children and other vulnerable persons to safe places, assuring that government would still reach out to them.
According to him, "we also noticed that aside from the IDP camps, many people have insisted on remaining in their homes, but because children and other vulnerable people are involved, we insist that they must be taken to safe places.
"But for those who insist on staying in their homes, we will be sending allocation of food and water to some of such communities, so we are not just going to be focusing on the IDPs.
"Already NEMA is taking a look at that, they have facilities for water purification, they also have some high-quality water treatment plants that are mobile. So, we would deploy clean water and other relief materials as quickly as possible."
In the aftermath of the flood, the Vice President said "the most important is what happens in the long term. When these floods clear, people have lost their livelihoods, their farmlands, we have to find ways to assist them get back to their normal lives. We will be working to see how that can be done as quickly as possible."
In his remarks, Governor Willie Obiano thanked the Vice President for the visit and the Federal Government's efforts in supporting the state assuage the hardship faced by the people.
He appealed for additional support to enable people regain their livelihoods in the aftermath of the disaster especially those who lost vast expanse of farm lands.
In the same vein, during his visit to the camp for displaced persons in Asaba, Delta State, Prof. Osinbajo said the Federal Government would collaborate with the state government to help in restoring the livelihood of the people affected by the floods.
He said, "Let me say first how touched I am just seeing all you who are here and who has had to be evacuated from your homes and from the various places where you live, the various communities to this place as a temporary shelter.
"We are going to be working with the state government and of course with the local government authorities and we will do everything that is necessary to ensure that the sufferings, the pains that you've gone through already is not allowed to continue and as quickly as possible you can return to your homes and return to your livelihood and return to your work wherever that may be."
Continuing, he said "The implications of a national disaster obviously means that the Federal Government will be working with all of its agencies and with the state government to ensure that lives are protected and those who need medical help are granted the medical help."
"We have also asked that the National Emergency Management Authority move quickly to supply additional relief materials to all IDPs, adding that "by tomorrow we should have an additional relief material including water, food, beddings and whatever is required, not only in this camp but in all the IDP camps or holding camps as is now called all across the state."
The Vice President commended the Delta State Government and its Governor Ifeanyi Okowa, for "moving very swiftly to assuage the sufferings of the displaced persons and for putting place adequate facilities in the camp for them.
In his remark, Governor Okowa said the camp for displaced persons was just a holding place, noting that they would soon be relocated as soon as the flood receded.