No Country can Survive with Grand Corruption, VP Osinbajo says at Germany Diaspora Town Hall Meeting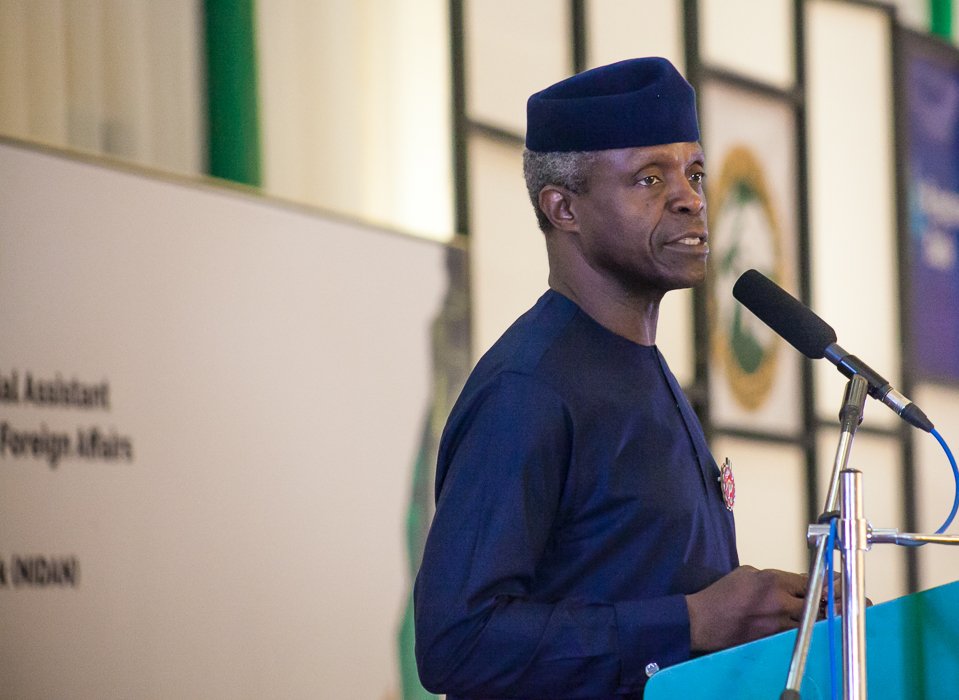 The problem with Nigeria is not about resources or planning, but the poor management of resources in the past bothering on grand corruption, according to Vice President Yemi Osinbajo, SAN.
Speaking last night with a cross section of Nigerians living in Germany, Prof. Osinbajo, while responding to questions during a town-hall meeting, said those who have made away with the nation's resources should be made to account for it, and that going forward such corruption does not happen again.
According to him "the greatest problem Nigeria has is one of grand corruption; that is the biggest problem we have, not the problem of planning or plans; and grand corruption is the reason why we are not moving as fast as we should in our country."
He added, "that there is no country in the world that can survive if its resources are stolen the way Nigeria's resources are stolen."
The Vice President noted that most of the issues raised by the Nigerians in Diaspora at the meeting around lack of energy, infrastructure, quality and extensive health care services, education and security can be traced back to the management of resources, while calling on Nigerian citizens to hold leaders accountable for the nation's wealth.
The Vice President spoke and took over 30 questions at the town hall meeting in Berlin, described by many of the attendees as the first of its kind since 1999, when civil rule was restored in Nigeria.
Prof. Osinbajo stated that one of the key issues the Buhari administration is dealing with in partnership with European leaders now is the repatriation of the country's stolen assets stashed abroad, adding that the Federal Government was equally having conversations with European countries on the subject of migration of Nigerians to Europe.
He told the gathering that government was concerned about whole migration issue and has started negotiating with European countries. He added that European countries can partner with Nigeria by investing in the country thereby discouraging the kind of migration of young people that is now prevalent. He was optimistic the challenge can be effectively addressed through Nigeria's collaboration with its European partners.
Explaining Federal Government's efforts at addressing unemployment challenges, the Vice President observed that a young population of about 60 per cent creates a yearly addition of about 1.4 million graduates to the unemployment market.
He, however, revealed that the Buhari administration is addressing the matter from several fronts such as the Federal Government employment of 500,000 graduates under the N-Power scheme, as well as through other social investment programmes like MarketMoni and TraderMoni.
Still on government efforts, he noted that, "one of the areas we are hoping to get employment is through agriculture. What we have done with agriculture is we have given 760,000 farmers direct loans under the Anchor Borrowers scheme"; generating more interests among farmers especially in the North, which is where a lot of farming is going on.
Responding to the issue about the wild insinuation that made the rounds to the effect that the President died last year, Vice President Osinbajo told the audience, which included cross sections of Nigerians in Germany, Ambassadors of Nigeria to Germany, France, Italy, Switzerland and Belgium, that it was ridiculous for anyone to suggest that the President was dead. He said it did not make sense to say the President died abroad and that no one knew.
Continuing, he said, "is it possible that anyone will die here in Germany and no one will know he died and somehow he will be flown out quietly out of a country like England? I think it is just so absurd. I think it is not something we should take half seriously. I think we should be properly informed," he submitted.
On health care delivery services to majority of Nigerians, Prof Osinbajo agreed on the need to extend good health care to all Nigerians, but he pointed out this can only be achieved through compulsory health insurance policy.
Underscoring the urgent need to develop a functional educational system, the Vice President announced that the Buhari administration was developing a robust education policy, saying "education is the basis of all we're doing."
In the next number of years by 2050, "we are going to be third most populous country in the entire world. So if we don't get education right we are in deep trouble, it means if we don't get our education policy right, we are going to have millions of young people out there doing nothing; nothing can be more dangerous than that.
"But if you look at our education policy and what we are trying to do a lot of it is technology based. We are working on our curriculum with some technology institutions and companies like MIT, Oracle, Cisco, and quite a few, just to develop the curriculum. The educational policy is what we call STEAM; we have added Arts to STEM and we are looking at how to deliver that policy in the cheapest and quickest possible way using technology.
"Part of our plans is to reconstruct 10,000 classrooms annually; it is not just to fix the structure, it also involves technology; to put technology into those classrooms to make sure we have the model right and we have so many countries that are interested in partnering with us".
"Technology in my view is really the way to go; to expand our capacity to train teachers and to train them quickly and this is contained in our Next Level document", he stressed.
On the ongoing strike by members of the Academic Staff Union of Universities (ASUU), the Vice President said negotiation between the Federal Government and ASUU was continuing and he expressed hope that an agreement can be reached with soon.
The Vice President is today headlining the Nigerian-German Business Dialogue in Berlin.