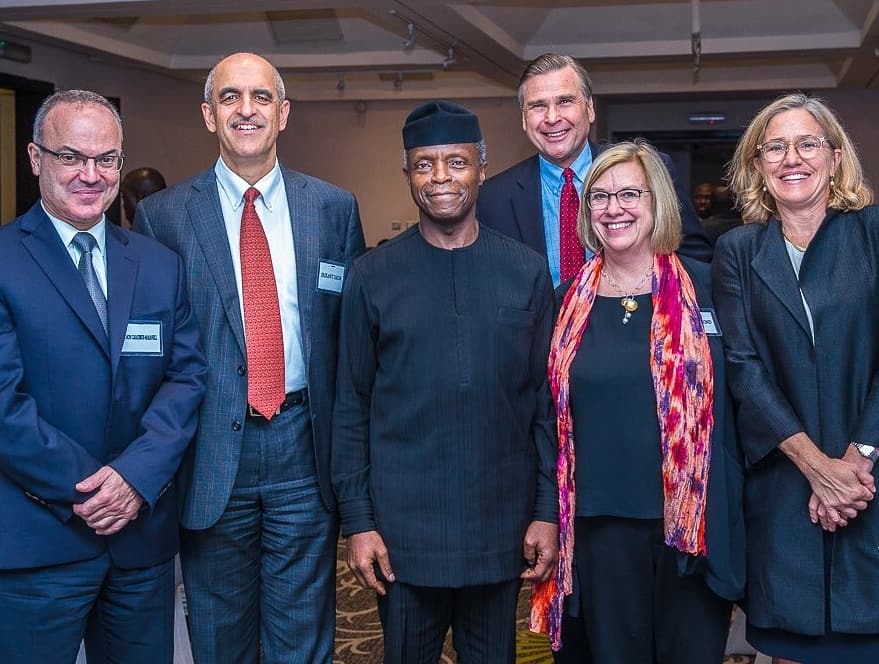 Vice President Yemi Osinbajo is as good as they come, he's the perfect salesman for Nigeria and whenever he is presented the opportunity to pitch an idea, he takes it with full embrace.
On many occasions, foreign investors are whipping out their fat check books and ordering that their Business Managers start thinking of how and where to invest in Nigeria even before Prof. Osinbajo is done with his speech.
It was no different on Tuesday June 18 in Lagos when he had an interactive session with the Havard Business School and some 32 professors. By all standards, professors are difficult to sway but when you have a suave and confident maestro handling this session then someone was always going to give in.
First, they were impressed that the Vice President had a Resume that was not commonplace in politics but more impressive was his knowledge for almost everything, from energy to economy, not to mention law.
But most importantly was the premium he placed on the Nigerian people and how the Buhari administration wanted millions to be out of the 'extreme poverty' line. He spoke about Human Per Capital index and the efforts of the government in improving the quality of lives of the average Nigerian.
He spoke and everyone listened. The room was quiet and the emotions from his speech, contagious. You could hear the hearts of the audience beat faster and their heads calculating how investments would benefit Nigeria and their brands.
The Senior Advocate of Nigeria said he would like to see Nigeria being an industrialised nation in the next 10 years with a very strong middle class and most people living above poverty line.
His oratory alongside his gesticulation made the audience turn their heads from left to right as they grasped every point made by Professor Osinbajo.
Osinbajo then explained that a lot of government policies were taking into account people at the bottom of the pyramid with a focus on agriculture and getting credit facilities to farmers in order to achieve self sufficiency.
He stressed that many farmers in Nigeria had been lifted out of poverty by the Buhari administration but that much more can be achieved with the partnership from investors.
He said a lot of attention has been given to the Social Intervention Programmes (SIPs) which factored the provision of cheap credit to petty traders at the bottom rung of the economic ladder.
It didn't take long for the magic wand of the Vice President to start producing results. As also present at the interactive session was Adebayo Ogunlesi, a global investor and one-time economic advisor to President Donald Trump.
Catching the vibes, Ogunlesi said that the era of depending on government for infrastructure was gone, he said the Federal Government had no business running infrastructure in Nigeria, especially the airports.
Srikant Datar, Professor of Business Administration, Havard Business School (HBS) pledged HBS's support in providing needed support for human capital development in Nigeria and proffering solutions to tackling Nigeria's infrastructure challenges.
For Prof. Osinbajo, it's just another opportunity to sell Nigeria to the world, it's another shot at taking Nigeria to where it rightfully belongs, it's another chance to showcase the glorious Green-White-Green but more importantly an opportunity to prove that the Nigerian people matter the most.