Other Vice Presidents should Emulate Osinbajo's Good Model – President Weah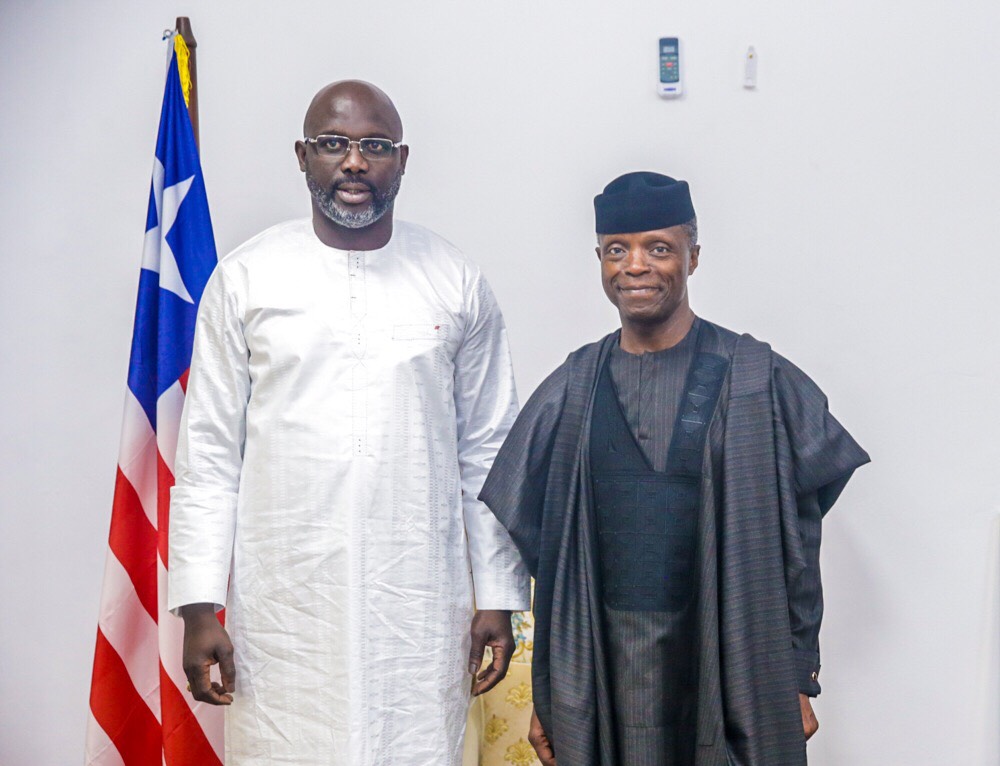 President George Weah of Liberia has showered praises on Nigeria's Vice President, Prof Yemi Osinbajo describing him as good role model for other Vice Presidents to follow.
Prof Osinbajo who is in Liberia to speak on leadership and women empowerment at the International SHEROES Forum paid a courtesy call on President Weah in Monrovia, the capital of Liberia on Wednesday.
Mr Weah who spoke glowingly of Osinbajo said Africa needs more leaders like him, given his brilliance and loyalty, particularly during his stints as acting President of Nigeria.
"You kept your country together in peace while President Muhammadu Buhari was away. That is a good model for other vice presidents to follow," President Weah said.
But President Weah was not alone in praising the good works and integrity of Prof Osinbajo.
Also commenting on Osinbajo's giant strides at the SHEROES forum, keynote speaker Joyce Banda, who is the former President of Malawi said she was perplexed while listening to VP Osinbajo's speech.
"When I heard you speak (as VP in Nigeria) I asked who is he? They said he is a pastor. I was grateful because what we really need in State houses in Africa are God-fearing men."
Banda also echoed the sentiments of President Weah urging more African leaders to follow the footsteps of Nigeria's Vice President.
While in Liberia, Prof Osinbajo participated in the formal launch of the Jewel Starfish Foundation.
The foundation is an organisation founded by the Vice President of Liberia, Jewel Howard Taylor, to provide educational opportunities to women and empower young women with capacity building tools that would enable them to achieve sustainable means of livelihood.
It also aims to inspire and provide mentoring for women, among other numerous objectives.
Other distinguished personalities at the event include former Liberian President, Madam Ellen Johnson-Sirleaf, who is the keynote speaker; former Vice President of Zimbabwe, Dr Joyce Mujuru, among other personalities.