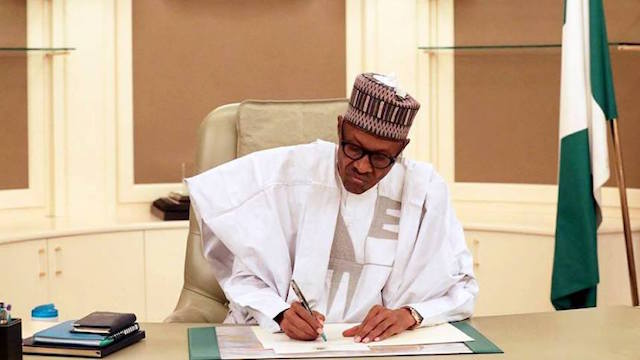 President Muhammadu Buhari has signed the Not Too Young to Run Bill, a landmark piece that was conceived, championed and accomplished by young Nigerians.
The president who received in audience the coordinators of the bill at the State house earlier today applauded them for establishing a formidable legacy.
The bill which was proposed to reduce the age qualification for President from 40 to 30; Governor from 35 to 30; Senator from 35 to 30; House of Representatives membership from 30 to 25 and State House of Assembly membership from 30 to 25 had the omission of age reduction for Senators and Governors as originally proposed by the sponsors.
However, the president assured that the omission issue will be addressed while going forward.
President Buhari notified the youths that their focus and contributions has successfully increased the quality and maturity of Nigerian democracy hence, expanded their playing field for their participation in politics.
The President pointed out that the youths are undoubtedly Nigeria's most important resources and assured that this administration will continue to do everything in its power to make Nigeria Work for them and the good people of Nigeria.
Moreover, he implored young people to be innovative, inculcate the spirit of self-help, engage in legitimate work that will result in long term sustainability and also take full advantage of the opportunities provided not only by this constitutional amendment but also through Nigeria's boundless prospect.
Finally, the president expresses his delight on the accomplishment and hope to see young people transform Nigeria in their own way through various means for the present and future generations.