The so-called Endorsement of Atiku by Obasanjo – Buhari Campaign Organisation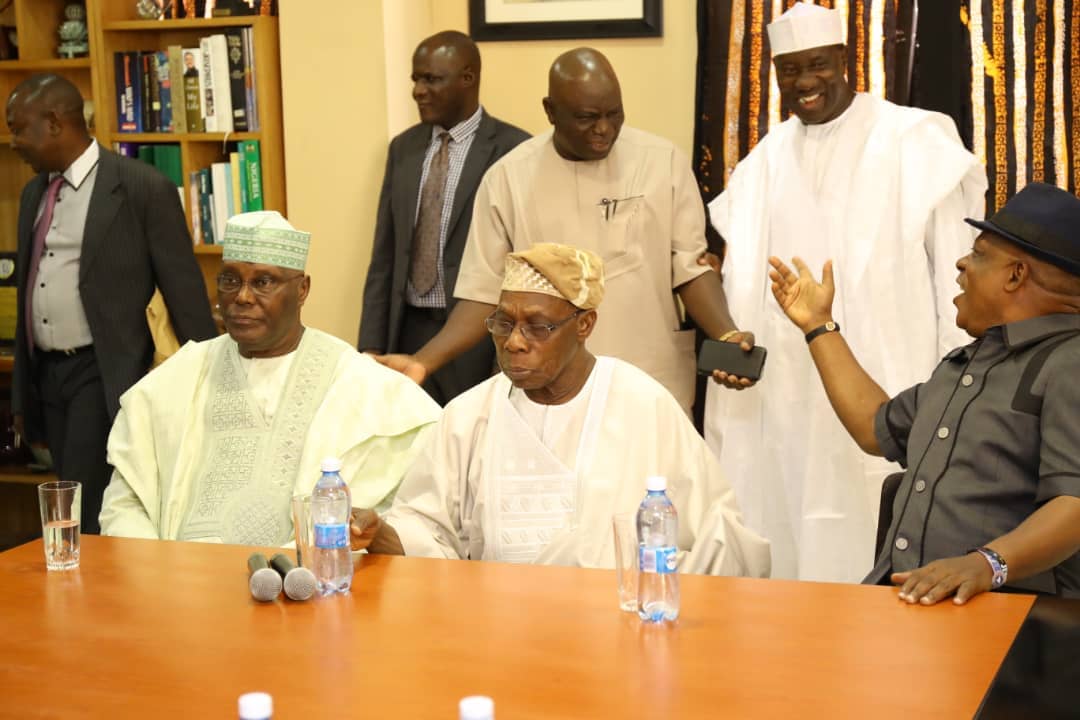 Our attention has just been drawn to the so-called endorsement of the candidate of the Peoples' Democratic Party for the forthcoming 2019 Presidential Election, former Vice President Atiku Abubakar, by former President Olusegun Obasanjo today at his Presidential Library Complex in Ogun State.
We are inclined to dismiss this gathering and "endorsement" as a complete non-event, but we feel we have a responsibility to Nigerians to remind them of the character and antecedents of these individuals, lest they take Nigerians for granted and see all of us as fools.
We do not intend to dwell on all the unprintable things touching on the lack of character, lack of integrity and corruptibility of Alhaji Atiku Abubakar that Chief Obasanjo has repeatedly and consistently told the whole world about up until few weeks ago. These are well-documented and circulated for Nigerians to remember. However, we are bemused and amused that a character who intends to be President of Nigeria has, for the past eleven years, consistently begged for "forgiveness" from a man who has consistently and unequivocally called him a very corrupt fellow. We wonder what type of character would not vigorously confront his accuser with facts to show his innocence, but would rather consistently ask for "forgiveness" from him.
The desperation to get the endorsement of Chief Olusegun Obasanjo by the PDP and its candidate is a clear sign that they want to return us to our sordid past where a few people decide who should govern us. In 2014/2015, President Muhammadu Buhari and his team, out of respect and convention, paid courtesy calls on prominent individuals and statesmen in the course of their campaigns when they visited cities in which these individuals lived. However, Nigerians should note that President Buhari was NEVER reported to have groveled and "begged" ANYONE for forgiveness, just to be endorsed as a Presidential candidate. Ultimately, he relied on the people of Nigeria to decide his fate. President Buhari would continue to rely on the endorsement of the people of Nigeria to be re-elected.
Interestingly, just a few weeks ago, specifically on the 4th of August, 2018, Chief Obasanjo was widely reported to have said "God will NEVER forgive me if I support Atiku for President". Whilst we acknowledge the constitutional right of the ex-president to support anyone of his choice, we draw attention of all God-fearing Nigerians to a character who would use the name of God in vain and in a flip-flop manner in just a matter of weeks. Where is the shame? Where is the honour? Where is the pride?
When a person invokes the curse of God upon himself if he does a particular thing, like Obasanjo has done, and then deliberately does that particularly thing and calls on Nigerians to follow him to receive his curse, Nigerians must flee in the opposite direction. We urge Nigerians NOT to follow this character to receive the curse he invoked upon himself.
We are also constrained to ask Chief Obasanjo about his Coalition For Better Nigeria, otherwise known as Third Force. We hope it is doing well.
We also note with interest the full participation of some "men of God" in the entourage of the Peoples' Democratic Party for this political re-alignment. We are glad that they have publicly declared their partisan interest and urge all Nigerians to see all their previous, present and future attacks on President Buhari from their pulpits in the context of partisan politics and not in the context of nationalistic or altruistic commitment. We wish them well.
Finally, we see this gathering as a confederate of desperate power-mongers and questionable characters who wish to return us to the era of unbridled corruption. It is significant that the meeting was held in a building which has become the symbol of corruption of the Obasanjo years, where a sitting President collected monies from known government hangers-on and contractors to build a "Presidential Library" in clear violation of the Code of Conduct for Public Officers. We hope President Obasanjo would one day return Governor Ayo Fayose's Ten Million Naira to that building as Fayose has requested. It is a significant reminder of the difference between the past and the present.
Nigerians would soon be called upon to choose between returning us to the era of corrupt Presidents and their deputies or continuing on this path of transparency and people-oriented Government.
Thank you.