We will Stand by you VP Osinbajo Tells Flood Victims in Bayelsa, Rivers States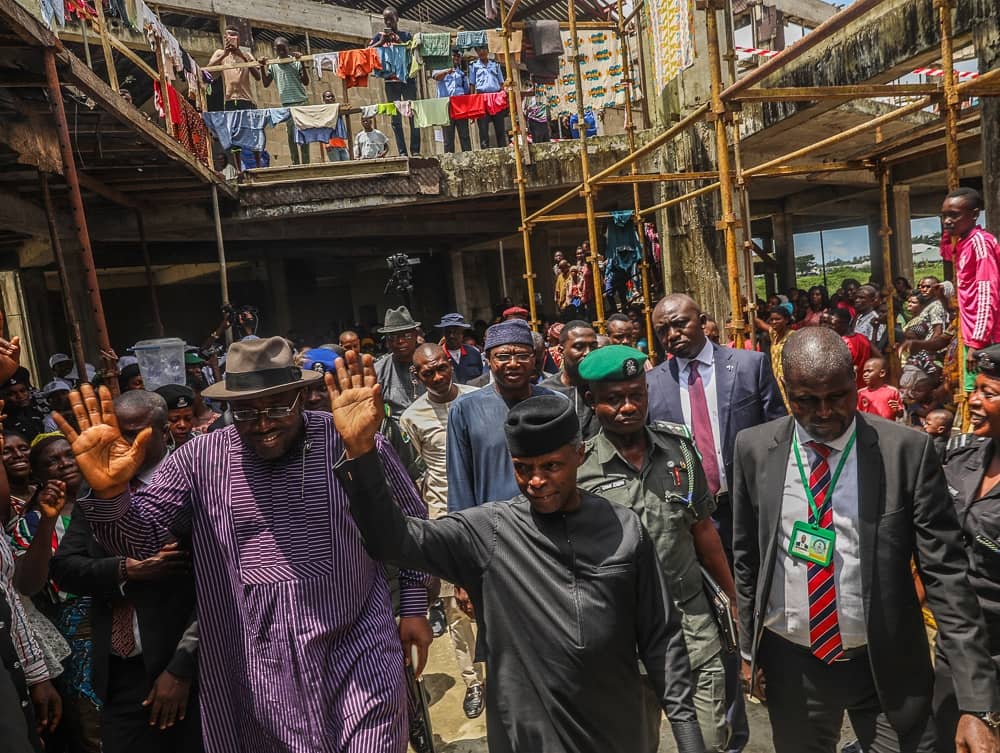 "I want to say on behalf of President Muhammadu Buhari, on whose instructions I am here, that we will stand by you and make sure we provide what you need."
REMARKS BY HIS EXCELLENCY, PROF YEMI OSINBAJO, SAN, GCON, VICE PRESIDENT OF THE FEDERAL REPUBLIC OF NIGERIA, AT ST. JOHN'S CATHOLIC CHURCH IDP CAMP, IGBOGENE, YENAGOA, AFTER HIS INSPECTION OF FLOODED AREAS IN BAYELSA STATE ON FRIDAY, OCTOBER 19, 2018.
Our dear people, let me say first of all that I am very touched that despite the flood and all you have been through, you are still able to welcome us so warmly. I thank you.
One of my many prayers is that the Lord God Almighty would help and uphold you and even after all of this, you'd be truly blessed in the mighty name of Jesus.
Let me thank very much, the very Reverend Joseph Okplema, the Vicar General of this parish. This is a wonderful thing you have done; I think you have shown what it is that we as Christian leaders must do, which is to take care of those who need care at any point in time. You have done so without caring where they are from. I think this is commendable indeed, and we thank the Lord for this initiative that you have taken, and I'm sure that the Lord God, who has seen your heart, will bless you and all of the sisters and others supporting you here.
Let me say that when we were coming here from Port Harcourt, we flew over many of the areas that have been flooded, and we saw first hand, how bad the damage is, very terrible indeed. Many homes are under water, farmland and businesses, and I was able to see, clearly what had happened, it is a very major disaster indeed.
First, we must thank God that you are alive, because, with life, there is hope. Secondly, I want to tell you just has the governor has said, it is the duty of the Federal Government and State Government, to ensure that we provide help and succour for you, not just now while you are here, but more importantly when you have to go back home, because that resettlement is the most important part of it.
You are alive and well here already, at least you have something to eat and drink, but the most important thing is, what happens when you leave here and go back home where you have already lost so much. There, we hope we would be able to give you as much support as is possible.
This is one of the reasons why I'm here; I'm not here alone, I'm with the Minister of Environment, Mr Ibrahim Usman Jibril and also the DG of NEMA – National Emergency Management Agency, Engr. Mustapha Yunusa Maihaja to assess for ourselves, what exactly is going on. We want to know how bad it is, how many victims there are, the nature and extent of the disaster, so we can advise properly and give you the kind of comfort and succour you need. So that is why we are here and I am very happy that I have been able to see for myself.
I want to commend you for your spirit, for not giving up at all, but remaining resolute and confident. That is the true Bayelsan spirit, the true spirit of the Nigerian, we cannot give up and we will not give up.
I want to say on behalf of President Muhammadu Buhari, on whose instructions I am here, that we will stand by you and make sure we provide what you need. I have already been told that some people still need mattresses, nets and all that. Happily, the Director General of NEMA is here and we will make sure that is provided. As for the cows and the meat, we will also look for a way of providing that because we cannot have rice, garri and beans without meat, there must also be meat.
So I want to thank you all for the very warm welcome and to wish you well, don't worry about your current situation, definitely, we will make sure that you are taken care of and that when you go back home, you are re-settled well. Thank you and God bless you.