Time to Find Idle Reno Okokri a Job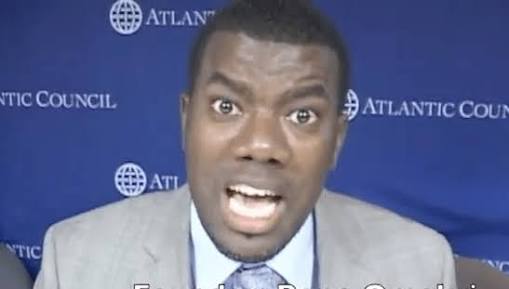 By Adoga Adejoh Ibrahim
Reno Omokri is increasingly leaving Nigerians with no other impression than to take him as jobless and idle since he seats idly, consuming precious long man hours in crafting odd tweets about government officials who are busy attending to the needs of Nigeria and its citizens.
Mr Omokri often times professes being a pastor. His actions speak volumes, defining him as belonging to the wrong side of the pulpit.
Pastors are known to keep very busy and tight schedules. They are ever know to dissipate energies and time on tending congregations that are constantly in search of salvation and solutions to personal problems. It is doubtful whether Mr Omokri was genuinely called for this kind of onerous tasks. Omokri communes only through social media, soaking his
soul in intricate political matters on which he is not adept and little informed.
Omokri, a protégée of former President Goodluck Jonathan adjudged to have presided over the most corrupt government in history is pained that Vice President Yemi Osinbajo was not heard talking glibly about the refusal of Boko Haram to release a one of its abducted Christian captive, Sharibu Leah. He tied his anger to earlier remarks by Professor Osinbajo that his principal stole a whooping N150 billion which he shared among cronies to ensure his re-election in 2015.
Omokri fight anyone who, either by commission or omission attempts to expose Jonathan or any of his aides who contributed to abuse of governance in different forms during their reign.
Omokri should be made to understand that governance does not run by the peck of his own imagination. It is more surprising that the Jonathan's aide on social media still does not know that the constitution of Nigeria allots functions to cabinet members, offering each of them the compass to operate.
He seems oblivious that when the President is physically in charge of a situation, the vice president only plays a supportive role. Regrettably, Omokri has not been reading the lips of President
Muhammadu Buhari on the abduction and release of Dapchi secondary school girls and his avowed determination to get Sharibu Leah released. So, he expected the Vice President to again interlope. What more could be engaging than the assurances by the authorities that Leah is already on the verge of being released by Boko Haram?
However, Omokri, appears more confused that the government of President Buhari is more prone to action than fancy talks just to impress and that the government gets visible results more from its past and present actions. He should take into reckoning that the Buhari's government secured the release of many of the Chibok Government Secondary School who Boko Haram kidnapped under Jonathan, while also wasting no time securing the release of school girls from Dapchi who were kidnapped in same manner, just weeks ago.
Reno Omokri gives an impression of himself as a watchdog and megaphone to echo perceived ills within a government. But he was tongue tied all through the reign of former President Jonathan when the commonwealth of Nigeria was mindlessly butchered or pillaged by desperate heists who served in the government and drew down the national economy almost to ground zero. Till date, Pastor Omokri has never spoken against the wide spread looting that footnoted the era of his Principal; former President Jonathan in government. He rather sounds like a hypocrite looking out to fault the Vice President or any official of government, just for the sake of being heard rather than speaking the truth about the evil that the past government created and left for Nigeria.
Omokri can continue to look away from the sins allegedly perpetrated by the Jonathan government, but he will not deny that the international community severed ties with that government on account of huge scale of corruption it permitted while its reign lasted. Omokri will also not deny that former President Jonathan lost the 2015 election because Nigerians were eager to kick it out, siting the
infamies anchored on large-scale corruption as strong reason. He also will not deny that up till date, the government of President Buhari has continued to recover government's monies looted by many in the cabinet of his main principal and perhaps has not succeeded in
recovering half of what had been looted.
Deep down in his heart, Omokri is aware that the government of former President Jonathan wronged Nigerians in many ways, including granting avenues for insecurity to fester with failure to invest in infrastructure and human capital development. He cannot controvert the fact that governance under Jonathan cracked so much that the government was generally branded as ineffectual and focusless. He should bear the guilt that the economy of Nigeria went prostrate under former President Jonathan, plunging Nigeria into a harrowing recession which took the present government less than a year to fix.
The suggestion here is that Omokri should stop hiding behind a finger by defending the indefensible. He should stop embarrassing his principal by his shameful theatrics of desperation to act like a good aide even when occasion never called for such. He should probably find something doing and get busy rather than loafing away precious time while immersed in nonsensical tweeting on irrelevant matters.
*Adoga Adejoh Ibrahim, a grassroots politician and public commentator
wrote in from Lokoja, Kogi State.