Ayo Adebanjo and His Divisive Politics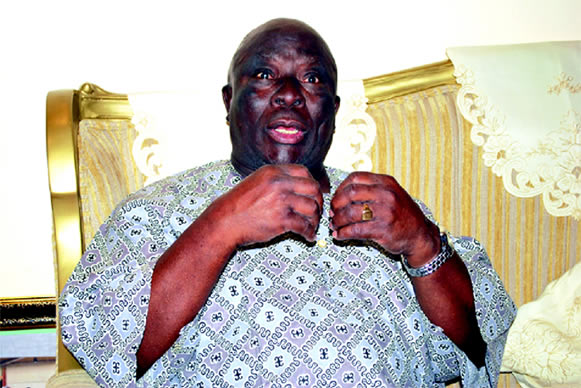 Chief Ayo Adebanjo seems to live in denial when he closes his eyes to the numerous achievements of the Buhari/Osibanjo administration. Firstly, before the emergence of this administration Boko Haram terrorists were wreaking havoc on the North East part of the country and at some point extended to Abuja and beyond.
Secondly in his blind hate for the administration he failed to acknowledge the peace we are now enjoying in the Niger Delta and indeed most parts of Nigeria. Save for occasional Boko Haram attacks the country is relatively safe.
Even in the case of the herders/farmers clashes, President Buhari has taken several measures to restore peace to Benue, Taraba, Adamawa and Kaduna. As things stand now, such attacks have greatly reduced if not totally stopped.  To prove Adebanjo wrong, President Buhari had in the aftermath of the Benue attacks expressly condemned it and ordered security men to apprehend and prosecute the perpetrators.
In the area of representation, South West geo-political zone where Ayo Adebanjo comes from has never had it so good with a vice president, minister of works, housing and power (all packed into one), minister of finance, minister of communications, minister of mines and power among others.
The much-talked about restructuring of the country has also been accepted by the ruling party with the recent submission of the recommendations for restructuring by the Nasir El-Rufai committee. Since building a country is a continuous process, one would have expected Chief Ayo Adebanjo to acknowledge the achievements of the Buhari/Osibanjo administration in diversifying the economy, fighting corruption and restoring security to some restive areas in the country.
It is important to remind Chief Adebanjo and his ilk that their perception of the duo of Mr President and his vice is wrong. Fortunately Nigerians see them differently – in positive light. While President Buhari is still very much appreciated for his integrity and honesty of purpose, values which Vice Preisident Osibanjo also possess immensely, Chief Adebanjo and his co-travellers under the past PDP administration wasted the nation's resources on trivial things, the major reason the Buhari/ Osibanjo administration is battling to rescue the country.
Has Chief Ayo Adebanjo forgotten that Vice President Osibanjo has been in the forefront of the call for state police and state rights in Nigeria which are major ingredient for any successful restructuring?
As a nonagenarian we expect Chief Adebanjo to give honour to whom it is due. The same Vice President he is denigrating has been acknowledged by a cross section of Nigerians as a fantastic leader whose type is scarce in our clime. In fact, the popular opinion among Nigerians is that after Buhari, Osibanjo should be the next president, and the reason is not far-fetched as his leadership qualities have continued to manifest with every passing day.
If indeed Chief Adebanjo was altruistic in all his years of supporting PDP why did he not push for restructuring to see the light of day. Many people believe that rather than fight for the collective interest, he used his access to power to pursue selfish interests and today he is on the wrong side of power equation, hence his constant virulent criticism of the Buhari/Osibanjo administration.
Vice President Osibanjo has been an advocate of restructuring in and out of government and Nigerians know this. The state governors themselves have even publicly acknowledged his advocacy for fiscal federalism and specifically state police, so why accuse him of abandoning Chief Awolowo's principles and call for him to step down? This is a man who has remained a stabilising force in this administration and the country as a whole and with the full support of President Muhammadu Buhari, they have saved Nigeria from the unbridled corruption of the PDP years in power of which Ayo Adebanjo was a supporter.
By Jonathan Isiekwene