Femi Fani-Kayode a turncoat with destructive tendencies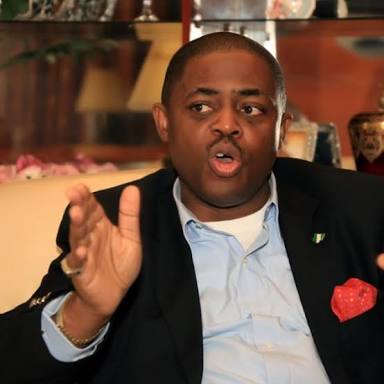 The man Femi Fani-Kayode is twisted. He has a twisted mind and he writes and says things that are twisted. He is incoherent, inconsistent and very unstable like an internet connection. He has accused Presidents, ministers and politicians only to turncoat and defend them with more vigour and enthusiasm.
It's the same for switching political parties and turning on the fingers that once fed him and even helped him when he was down. The issue of substance abuse has popped up a couple of times, with many concerned that he sometimes says things when he's on 'overdrive'
In 2015, then opposition spokesman, Lai Mohammed, said Fani-Kayode – then Peoples Democratic Party Campaign Organisation spokesman – may be abusing substance owing to the series of "incoherent" allegations he has levelled against the party.
FanÍ-Kayode had alleged that Yemi Osinbajo, then APC vice-presidential candidate, is a stooge of Bola Tinubu and would eventually pave the way for him to become vice-president.
"No, we have never and will never wish anyone any ill-health. However, we are seriously concerned that Fani-Kayode may have unhinged, perhaps as a result of a relapse into an unhealthy lifestyle of substance abuse. Our concern stems from the series of incoherent statements, outlandish claims and inconsistent behaviours exhibited by Fani-Kayode in recent times, which call into question his state of mental health," the APC said at the time.
"We wish Mr. Fani-Kayode well and call on him to tell Nigerians that he remains clean, despite the massive pressure of work, and that he will not do anything that will see him needing a prolonged reformation in a foreign land," the APC added.
Three years down the line and the 'stooge' suggestion by Fani-Kayode remains an illusion, a phantom. Osinbajo is still Vice President and will most certainly remain in his position.
But there's more from the Mario Balotelli of Nigeria's politics. In 2013, he said this of former President Goodluck Jonathan, who he later served.
Fani-Kayode popularly referred to as FFK said President Jonathan was too weak to win the war against Islamic sect, Boko Haram. "As long as Jonathan is in power, Boko Haram will be there because he is not man enough to tackle the problem''. Until a president who is man enough is in charge, Boko Haram problem will continue to be there," he said on 5 Thursday 2013, in Osogbo, capital of Osun state.
Similarly, on 6 February 2014, FFK said "Jonathan has failed in all sectors, including the economy and security, and if he should be allowed to continue in office, this country is heading for serious disaster and it will be calamitous.
On February 5 2014, again FFK said "Yorubas have been marginalized by Jonathan's administration and thus, should not vote him in 2015". He went further to say that "Any attempt to allow President Jonathan stay in office beyond 2015 would mean doom for the Yoruba nation. Jonathan is bleeding Nigeria to death, It is time for change.
But it did not take long before he began singing his praise. Once he was appointed spokesperson of Jonathan's campaign, Fani-Kayode began praising Jonathan and he immediately took on his opposition Buhari.
Earlier, this year, he said this about Jonathan, "A man of honor and peace and one that has brought so much joy and hope to millions. You have proved to the world that African leaders can be competent, kind, gentle, humane and selfless. You have everything to be proud of and much still lies ahead for you in the affairs of our nation. You are the light amidst the darkness: a man that was prepared to let go of power whilst others crave for it, abuse it and are obsessed with it."
Like Jonathan, he served under another former President, Olusegun Obasanjo as minister of aviation. And even Obasanjo was not spared of his vituperation. "But the truth is that Obasanjo caused the problem we have today. The joy of it is that the same Obasanjo who anointed an incompetent leader (Jonathan) for Nigeria is now cleaning up the mess," he said referring to Obasanjo's castigation of Jonathan's government.
But there are others. He has attacked Igbos, the PDP. On 8 August 2013, he turned on the Igbos. "The Igbo and their Biafra fought Nigeria and killed Nigerians for three hard years in that brutal civil war in which over one million courageous, loyal and faithful sons and daughters of the Federal Republic lost their lives at the war front trying to stop Biafra from seceding from the federation, from taking our land and from taking the minority groups of the Mid-Western Region and Eastern Region and our newly-discovered oil with them''
Not done with Igbos, FFK in an effort to disparage the most revered Igbo man living or dead, made a public rendition of how he frolicked with the wife of late Chief Odumegwu Ojukwu, Eze Igbo Gburugburu. Today because he is in President Jonathan's government some Igbos have embraced him as their friend not minding how this man diminished the Igbo race by diminishing their legend. Igbos who supports FFK are ignorant and they don't even understand what is means to have your legend diminished.
Five years down the line, he is the number one advocate for Biafra. "What has Nnamdi Kanu or indeed the Igbo people done to warrant this primitive show of barbarism and force? We are on the brink of a total breakdown of law and order and a prolonged and bloody armed conflict.
"I urge restraint on all sides and I call on President Muhammadu Buhari to withdraw the army from the east and leave Nnamdi Kanu alone.Terrorising your own people with soldiers is not the act of a courageous man but rather the act of a tyrant, a coward and a bully. We call on the international community to bear witness to what is unfolding in eastern Nigeria," he wrote in an op-ed on 16 September 2017.
Days ago, he became an advocate of President Muhammadu Buhari who he has vehemently insulted at every opportunity that has presented itself. He did not only advocate for Buhari, he also defended him. But minutes later, he was insulting him again. That stunned me because this was a new low for Fani-Kayode.
"I commend @MBuhari for announcing June 12th as our new Democracy Day. This is long overdue and I am pleasantly surprised.I also commend him for honoring Chief MKO Abiola, the winner of the June 12th 1993 presidential election, with the posthumus award of GCON.This is great news!" he wrote on 7 June 2018 on Twitter.
"The award of GCFR to MKO Abiola by @MBuhari and the declaration of June 12th as Democracy Day is a classic case of a cunning, self-seeking, self-serving and evil man doing the RIGHT thing for the WRONG reasons. If you really want to win our hearts beg for forgiveness and resign!
Shortly after he was defending the President again. "Ocherome Nnana called the Yoruba "sophisticated morons"for accepting what @MBuhari did relating to MKO Abiola and June 12. This is unacceptable and he is wrong. He did NOT speak for @vanguardngrnews and he did NOTspeak for the Igbo.He only spoke for his sorry self.God forgive him," he tweeted.
Like the opening song from the classic, Sound of Music, "How do you solve a problem like FFK"? I think the Bible has just the verse for him, James 1 vs 8, "A double minded man is unstable in all his ways".
Apt, absolutely apT
By Nathaniel C. Adoji