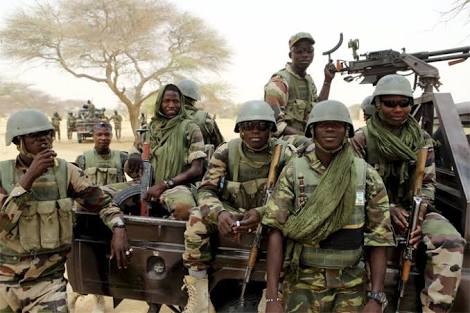 Those amply deluded to test the strength of the Nigerian State are by now learning the hard lessons of their foolhardiness and misguided believe. A lesson the Chief of Army Staff (COAS), Lt Gen TY Buratai is personally delivering to the terrorists in the North East as he has relocated his operational HQ to Gudumbali in Borno State.
The COAS, after an exclusive meeting on 6th September 2018 with his Principal Staff Officers and Operation Commanders at the Army Headquarters Abuja, left the Federal Capital Territory to Borno State with some operation commanders, General Officers Commanding (GOCs) and in company of the Theatre Commander, Operation LAFIYA DOLE.
Gen Buratai is presently leading an attack to flush out the remnants of Boko Haram Terrorists (BHT) from the fringes of the lake chad. His presents in the front line will promote the troops fighting spirit as troops has maintained very high offensive Operation in the lake chad fringes, this as expected have neutralized so many BHT while several others have willingly surrendered to troops. Intelligence available to us reveals that if the military maintains this vigor, its success will curtail the recent attacks by Islamic State West Africa Province #ISWAP while reinforcing troops continue to fortify their location.
On interviewing some returned Internally Displaced Persons, Nuhu Abdullahi stated that "I am happy that our soldiers responded quickly when BH attempted to attack us in Gudumbali and seeing Gen Buratai here on ground is an indication that we are his own people. We have come to stay here and we will give him all the support".
The COAS was seen conducting series of meetings with the locals and village heads in Damasak and Durban all aimed at finally breaking the nerve of BHT and assuring the people that the Nigerian Military remains the only Army they can truth to guarantee the safety of their lives and properties. He is presently paying unscheduled visits to all formations and units in the NE to check their operational readiness. In most of the units and FOB's visited all the troops were found to be at full alert.
In all the units visited he holds durbars (meetings) with the junior cadre soldiers alone without their commanders. The idea is to get first hand information from them about their welfare and other issues affecting their wellbeing.
Another point of interest is that all the units and formation Gen Buratai visited, he personally instructed the armorers to open the arms store to enable him physically inspect the weapons including support weapons in their inventories. This is to ascertain that they were very well equipped. Most of the weapons were also tested for serviceability.
Mr. Fredrick is a New Media/Open Source Intelligence Analyst | Member NA Resource Centre & Lover of Cyber Security, He writes from North East